New Chair of the Social Mobility Commission confirmed
Education Select Committee endorses appointment of Dame Martina Milburn as Chair of the Social Mobility Commission.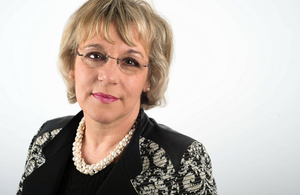 Education Secretary Damian Hinds has today (13 July) confirmed Dame Martina Milburn as Chair of the Social Mobility Commission, following an endorsement of her appointment by the Education Select Committee.
Dame Martina was named as the Education Secretary's preferred candidate to be the next Chair of the Commission as a result of her years of experience working to improving the aspirations and opportunities for disadvantaged young people around the country, including during 14 years as Chief Executive of The Prince's Trust.
Her confirmation follows a hearing before the Education Select Committee, where she took questions on her work supporting more than 450,000 disadvantaged young people through The Prince's Trust, three in four of whom go on to work, education or training. She spoke about her vision for the Commission and how to make social mobility a household term understood around the country.
The Social Mobility Commission is also appointing a new set of commissioners to join Martina on the board, and drive action on social mobility around the country. The applications process is open until 25th July for people from all backgrounds.
Education Secretary Damian Hinds said:
Dame Martina's work at The Prince's Trust – helping hundreds of thousands of young people - shows that she has the skills and experience to take on this important role working with government to ensure there are no limits on anyone's ambition.

We both share a vision for a country where opportunity is spread equally, helping to create future generations of ambitious and highly-skilled young people who can fulfil their potential. I look forward to working with her to make this vision a reality.
Dame Martina Milburn said:
I am delighted to be the new Chair of the Social Mobility Commission. I hope my experience of working closely with and listening to young people from many different backgrounds will help make a difference.

This Commission matters, because its purpose is to help people enjoy better lives.

My first priority is to recruit my team of Commissioners and we're looking for people from all walks of life. I want to engage real people, with real life experiences, who can challenge government, business and society as a whole, to create a fair system where people can thrive.
Further information:
Since 2004 in her role as Chief Executive of The Prince's Trust, Dame Martina has led work to remove the barriers too many young people still face, including more than 100,000 through 'Achieve' - an education programme that helps those at risk of exclusion from school – and projects that improve young people's emotional wellbeing and resilience.
Dame Martina also oversaw the charity's expansion by integrating the Fairbridge personal development programme and Mosaic, a mentoring initiative, extending links with young people from deprived inner-city areas and those from Muslim communities. She was previously Chief Executive of BBC Children in Need and of the Association of Spinal Injury Research, Rehabilitation and Reintegration.
Published 13 July 2018