News story
New chair of the Medical Research Council appointed
Vince Cable said: "I am very pleased to welcome Donald as chair of the Medical Research Council. His high level experience of business and…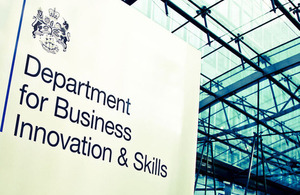 Vince Cable said:
"I am very pleased to welcome Donald as chair of the Medical Research Council. His high level experience of business and government makes him well qualified to provide a strong contribution to the leadership and work of the Council."
Minister for Universities and Science David Willetts said:
"I'm delighted to welcome Donald to his new role. His experience will be a huge asset in an organisation that funds world-class research in medical science at a very exciting time."
Donald Brydon said:
"I am honoured to have been asked to chair the Medical Research Council. Its work contributing to the health and wellbeing of society is of the highest importance."
Donald Brydon will succeed Sir John Chisholm on 1 October 2012. The appointment is for four years.
**Notes to editors
**1. This appointment has been made in accordance with the requirements of the Code of the Commissioner for Public Appointments. Donald Brydon has not been involved in any relevant political activities in the last five years. All appointments are made on merit and political activity plays no part in the selection process. However, in accordance with the Nolan recommendations there is a requirement for appointees' political activity to be made public. He will receive an honorarium of £16,340 pa.
Donald Brydon has been Chair of the Royal Mail Group since 2009. He has also been Chair of Smiths Group since 2004, Chaired the London Metal Exchange from 2003-2010 and was a Director of AXA Investment Managers (1997-2012). He is to Chair Sage Group from 1 September 2012. He had a long career in the Barclays Group (1977-1996) particularly in BZW Investment Management (1986-94) and he was Deputy Chief Executive BZW from 1994-96. He holds a BSc in Mathematical Science. The present MRC Chair, John Chisholm, steps down at the end of September.

The Medical Research Council (MRC) was established in 1913 as the Medical Research Committee, and as a Council by Royal Charter in 1920. The MRC is funded through the Department for Business, Innovation and Skills; its funding allocation for 2012-13 is £668.6m. The MRC currently employs over 3000 full-time staff. The MRC is dedicated to improving human health through world-class medical research. It supports research across the biomedical spectrum, from fundamental science to clinical trials, and in all major disease areas. The Council works closely with the NHS, the UK Health Departments, the other UK Research Councils, the biomedical community, industry and other stakeholders to identify and respond to the UK's health needs. It gives a high priority to research that is likely to make a real difference to clinical practice and the health of the population. For further information on the MRC see www.mrc.ac.uk.

The Government's economic policy objective is to achieve 'strong, sustainable and balanced growth that is more evenly shared across the country and between industries.' It set four ambitions in the 'Plan for Growth' (PDF 1.7MB), published at Budget 2011:
To create the most competitive tax system in the G20

To make the UK the best place in Europe to start, finance and grow a business

To encourage investment and exports as a route to a more balanced economy

To create a more educated workforce that is the most flexible in Europe.
Work is underway across Government to achieve these ambitions, including progress on more than 250 measures as part of the Growth Review. Developing an Industrial Strategy gives new impetus to this work by providing businesses, investors and the public with more clarity about the long-term direction in which the Government wants the economy to travel.
BIS's online newsroom contains the latest press notices and speeches, as well as video and images for download. It also features an up to date list of BIS press office contacts. See [http://www.bis.gov.uk/newsroom](http://www.bis.gov.uk/newsroom) for more information.
Notes to Editors
Contact Information
Name BIS Press Office Job Title
Division Department for Business, Innovation & Skills Phone
Fax
Mobile
Email bispress.releases@bis.gsi.gov.uk
Name Sally Catmull Job Title
Division Department for Business, Innovation and Skills Phone 020 7215 6577 Fax
Mobile
Published 1 August 2012