News story
New Chair of the Lay Observers' National Council appointed
The Secretary of State for Justice has appointed John Thornhill as the Chair of the Lay Observers' National Council.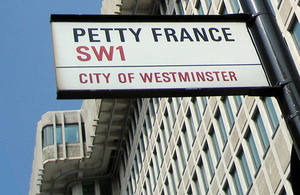 John Thornhill OBE has been appointed as the Chair of the Lay Observers' National Council from 1 June 2018 to 31 May 2021.
Lay Observers are volunteers appointed by the Secretary of State under the 1991 Criminal Justice Act. They inspect the conditions in which Detained Persons are transported or held by escort or custody contractors in England and Wales.
The Chair convenes and oversees the work of the National Council, leading its development and ensuring that monitoring is appropriately performed by the Lay Observers and that their work dovetails with that of other bodies. John Thornhill has experience in education and law as an Ofsted Inspector, the Chairman of the Magistrates' Association (MA) and a representative of the English Judiciary on the European Network of Councils for Judiciary (ENCJ). He was President of the Independent Monitoring Boards (IMBs) until 2017. He was awarded an OBE for services to the Criminal Justice System and in 2013 awarded an Honorary Doctor of Laws degree (LLD) by Manchester Metropolitan University in recognition of his distinguished achievements in the fields of law, education and public service.
This appointment has been conducted in accordance with the Commissioner for Public Appointments' Governance Code on Public Appointments.
John Thornhill has declared no political activity.
Published 29 May 2018