News story
New chair of the Engineering and Physical Sciences Research Council appointed
Vince Cable said: "I am very pleased to welcome Paul Golby as chair of the Engineering and Physical Sciences Research Council. His high level…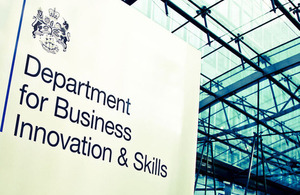 Vince Cable said:
"I am very pleased to welcome Paul Golby as chair of the Engineering and Physical Sciences Research Council. His high level experience of business and government makes him well qualified to provide a strong contribution to the leadership and work of the Council."
Minister for Universities and Science David Willetts said:
"I'm delighted to welcome Dr Golby to his new role. His experience will be a huge asset in an organisation that funds world-class research in engineering and the physical sciences, which are disciplines at the heart of our economy."
Paul Golby said:
"I look forward to chairing the Council during a challenging period. Science and engineering are fundamental to the future economic health and prosperity of our nation. It is important that we invest wisely in the excellent research base of this country."
Paul Golby succeeded John Armitt on 1 April 2012. The appointment is for four years.
Notes to editors:
---
This appointment has been made in accordance with the requirements of the Code of the Commissioner for Public Appointments. Paul Golby has not been involved in any relevant political activities in the last five years. All appointments are made on merit and political activity plays no part in the selection process. However, in accordance with the Nolan recommendations there is a requirement for appointees' political activity to be made public. He will receive an honorarium of £16,340 pa.
Dr Golby was Chairman and Chief Executive of E.ON UK plc until December 2011. He worked for Powergen plc from 1998-2002 becoming Director UK Operations. He has been Chair of AEA Technology Group plc since 2009 and joined the Board of National Grid in February 2012. He has been a member of the Prime Minister's Council for Science and Technology since June 2011, is Chair of Engineering UK and Pro-Chancellor of Aston University.
The Engineering and Physical Sciences Research Council (EPSRC) is the main UK government agency for funding research and training in engineering and the physical sciences. More information about EPSRC can be found at www.epsrc.ac.uk.
BIS's online newsroom contains the latest press notices, speeches, as well as video and images for download. It also features an up to date list of BIS press office contacts. See http://www.bis.gov.uk/newsroom for more information.
Notes to Editors
Contact Information
Name BIS Press Office Job Title
Division COI Phone
Fax
Mobile
Email NDS.BIS@coi.gsi.gov.uk
Name Sally Catmull Job Title
Division Department for Business, Innovation and Skills Phone 020 7215 6577 Fax
Mobile
Published 4 April 2012