Press release
New chair of the Covent Garden Market Authority appointed
Pam Alexander, OBE has been appointed as Chair of the Covent Garden Market Authority (CGMA) from 1 February 2013 to 31 January 2016.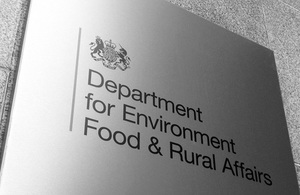 Her appointment follows the departure of Baroness Brenda Dean of Thornton-le-Fylde on 31 January 2013, after almost 8 years of distinguished service as Chair of the CGMA. During this time she has made a significant personal contribution to the future redevelopment of the market.
The CGMA is a statutory corporation operating primarily under the terms of the Covent Garden Market Acts of 1961, 1966, 1969 and 1977. The CGMA owns and is responsible for the operation of New Covent Garden Market. It is sponsored by Defra and led by the CGMA Board, members of which are appointed by the Defra Secretary of State.
The appointment has been made in accordance with the Code of Practice issued by the Commissioner for Public Appointments. All appointments are made on merit and political activity plays no part in the selection process.
Biography
Pam Alexander has more than 35 years experience in the public, private and not-for-profit sectors. Pam has worked closely with boards and government ministers on strategic policy and delivery across numerous areas including regeneration and housing, innovation, growth and economic development. Her current commitments include Chair of Thanet Regeneration Board and non-executive directorships of Crest Nicholson, the Design Council, the Academy of Urbanism and Brighton Dome and Festival Limited. She is also a member of the London Mayor's Design Advisory Group.
Pam was the Chief Executive of the South East England Development Agency (SEEDA) from 2004 to 2011, where she led large development and regeneration projects across the south east, and worked with businesses and local authorities to support sustainable economic growth. Previously she was chief executive of English Heritage, deputy chief executive of the Housing Corporation and a senior civil servant in the Department for the Environment. From 2004 to 2009 she chaired the Peabody Trust, a major housing charity with over 18,000 homes across London, where she led a customer-focused organisational transformation and major estate renewal programmes.
Published 7 January 2013