News story
New Chair for the Shareholder Executive
The Shareholder Executive manages the Government's shareholder relationships with over 20 Government owned businesses and assets across Whitehall…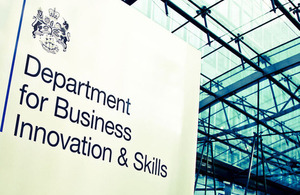 The Shareholder Executive manages the Government's shareholder relationships with over 20 Government owned businesses and assets across Whitehall. It also offers a wide range of corporate finance expertise and advice to central Government departments.
As Chair, Patrick's key role will be to provide high level strategic direction to the Shareholder Executive.
Commenting on the appointment, Business Secretary Vince Cable said:
"I am extremely pleased that Patrick O'Sullivan is joining the Shareholder Executive. Patrick's experience in senior roles in the corporate world and the mix of skills he brings are an excellent fit for the requirements of the job. The work of the Shareholder Executive is invaluable to Government."
Patrick O'Sullivan added:
"It is a pleasure to be asked by the Secretary of State for BIS to chair the Shareholder Executive.
"I look forward to working with Stephen Lovegrove and the Chairmen of the respective Government owned corporations to ensure we can meet our shareholder objectives."
Patrick O'Sullivan will succeed Philip Remnant, who has been in the post since June 2007, in the first quarter of 2012.
Notes to editors:
---
1) The Shareholder Executive was set up in September 2003 to work with shareholder departments in Government to improve fundamentally the Government's capabilities and performance as a shareholder. It is located within the Department for Business, Innovation and Skills (BIS). However, it works work closely with all central Government departments advising them on their shareholder interests.
2) Patrick O'Sullivan is currently Chairman of Old Mutual, Deputy Governor of the Bank of Ireland (appointed in 2009) and Senior Independent Director of Man Group. He is Non-Executive Director of COFRA Holding and a past Finance Director of Zurich Financial Services Group.
3) Patrick O'Sullivan's appointment is for a period of two years. He will work for the Shareholder Executive one day a week.
4) BIS's online newsroom contains the latest press notices, speeches, as well as video and images for download. It also features an up to date list of BIS press office contacts. See http://www.bis.gov.uk/newsroom for more information.
Notes to Editors
Contact Information
Name BIS Press Office Job Title
Division COI Phone
Fax
Mobile
Email NDS.BIS@coi.gsi.gov.uk
Name Matt Barker Job Title
Division Department for Business, Innovation and Skills Phone 020 7215 5946 Fax
Mobile
Published 13 October 2011