News story
New chair for the Industrial Development Advisory Board
Business Minister Michael Fallon announces public investment expert Paul Mullins as the new Chair of IDAB.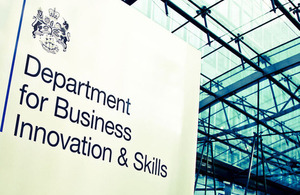 At the same time, he announced the reappointment of Philip Sturrock for a second term as a member of the Board.
IDAB provides advice to Government on proposals to provide selective assistance to large projects, particularly applications for Grant for Business Investment and Regional Growth Fund schemes.
Business Minister Michael Fallon said:
"The skills and experience Paul and Philip bring is a real boost for the Industrial Development Advisory Board, which provides a vital role in helping the Government make the right choices on large investment decisions.
"It is imperative that the best business brains advise the Government on which projects will best drive growth to ensure taxpayers' money is being spent efficiently on projects that will have a positive impact on job creation and on boosting local communities."
Paul Mullins has been a mergers and acquisitions adviser for 25 years at Schroders, Citigroup, Bank of America and DC Advisory. He is a fellow of the Chartered Institute for Securities & Investment, a member of The Independent Advisory Panel of the Regional Growth Fund and served as a Commissioner on the Ownership Commission. He has been a member of the Board since December 2008.
Paul will become Chair with effect from 1 December 2012 for a three year period on the retirement of the current Chair, Mark Seligman.
Philip Sturrock is currently Chair of the Wandle Housing Association and of The United St Saviour's Charity in Southwark. He was previously Chair and CEO of The Continuum International Publishing Group. He has had a long and successful career in book publishing including being Chair of Osprey Publishing Ltd, Chair and CEO of Cassell plc and Managing Director of both Routledge and Pitman. Philip was appointed to the Board in November 2009.
**Notes to editors
**1. IDAB is a statutory body set up under Section 10 of the Industrial Development Act 1982 to advise the Secretary of State on the exercise of his powers under Sections 7 and 8 of that Act, which cover the provision of selective financial assistance to industry. The Board comprises senior people who collectively bring a balance of expertise and competence in industry, banking, accountancy and finance to advise Ministers on large investment decisions. It advises the Secretary of State on public investments in major projects in England.
The appointments are part?time and unpaid.

For more information on the Board, including current membership, please visit http://www.bis.gov.uk/policies/regional-economic-development/industrial-development-advisory-board.

The Government's economic policy objective is to achieve 'strong, sustainable and balanced growth that is more evenly shared across the country and between industries'. It set four ambitions in the 'Plan for Growth' (PDF 1.7MB), published at Budget 2011:
To create the most competitive tax system in the G20

To make the UK the best place in Europe to start, finance and grow a business

To encourage investment and exports as a route to a more balanced economy

To create a more educated workforce that is the most flexible in Europe.
Work is underway across Government to achieve these ambitions, including progress on more than 250 measures as part of the Growth Review. Developing an Industrial Strategy gives new impetus to this work by providing businesses, investors and the public with more clarity about the long-term direction in which the Government wants the economy to travel.
BIS's online newsroom contains the latest press notices and speeches, as well as video and images for download. It also features an up to date list of BIS press office contacts. See [http://www.bis.gov.uk/newsroom](http://www.bis.gov.uk/newsroom) for more information.
Notes to Editors
Contact Information
Name BIS Press Office Job Title
Division Department for Business, Innovation & Skills Phone
Fax
Mobile
Email bispress.releases@bis.gsi.gov.uk
Name Joanna Fletcher Job Title
Division Department for Business, Innovation and Skills Phone 020 7215 5951 Fax
Mobile
Published 26 November 2012