New chair for the Gangmasters Licensing Authority
Margaret McKinlay has been appointed Chair of the Gangmasters Licensing Authority (GLA).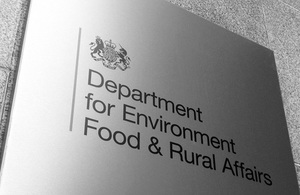 Ms McKinlay's appointment will run from 11 July 2011 until 10 July 2014. She will be paid £330 per day, working on average 6-8 days a month. Reasonable travel expenses are also paid.
This appointment has been made by the Secretary of State in consultation with the Stormont Executive Minister responsible for Agriculture and Rural Development. It complies with the Code issued by the independent Office for the Commissioner for Public Appointments. The appointment follows pre-appointment scrutiny by the Environment, Food and Rural Affairs Select Committee which endorsed Ms McKinlay's suitability for the post.
Notes
The GLA is a Defra sponsored Non-Departmental Public Body responsible for the operation of licensing arrangements for those who supply labour or use workers to provide services in agriculture, forestry, horticulture, shellfish gathering and food processing and packaging.
Ms McKinlay is former Acting Chief Executive at the Immigration Advisory Service. She has held senior positions in both the private and public sector including the Department of Energy and British Gas/Centrica and has held a variety of senior charity sector posts.
Published 13 July 2011