News story
New Chair for Government's fund management company
Capital for Enterprise Limited is the company which advises the Government on the design, implementation and management of finance measures …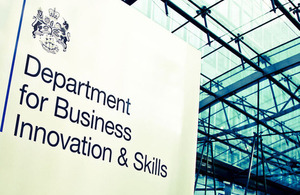 Capital for Enterprise Limited is the company which advises the Government on the design, implementation and management of finance measures to support small and medium sized enterprises (SMEs) across the UK. It manages programmes that provide around £4 billion in finance to SMEs.
Business and Enterprise Minister Mark Prisk said:
"I am pleased to announce Lucy Armstrong as the new chair of Capital for Enterprise Limited. She brings a breadth of experience from working directly with high growth small companies, business angels and regional funds.
"The finance programmes managed by Capital for Enterprise Limited are vital for supporting new and growing small businesses across the UK, and Lucy's expertise and insight will ensure these programmes continue to be successful."
Lucy Armstrong is chief executive of The Alchemists, a company that matches up experienced, successful entrepreneurs with high growth medium sized business to accelerate their growth. She will serve as the non-executive chair of Capital for Enterprise Limited from 1 April 2012 initially until 31 March 2015.
Notes to editors:
---
Capital for Enterprise (CfEL) is a fund management company which designs, delivers and manages venture capital and debt guarantee schemes on behalf of the public and private sectors. CfEL brings together deep knowledge, experience and expertise in investment management along with a detailed understanding of SME finance markets (debt, equity and hybrids), public policy objectives and the interaction between the two.
CfEL is the largest single investor in UK venture capital, giving it a detailed overview of the UK venture market. Taken together, the debt and equity programmes mean that CfEL has over £1.1bn of assets and liabilities under its direct management. When all of the private sector money is taken into account, these schemes under CfEL's oversight have created financing schemes which total more than £4bn invested in, or available to SMEs.
It commenced trading in April 2008. While its remit is across the whole of UK Government, it is sponsored, and wholly owned, by the Department for Business, Innovation and Skills (BIS).
http://www.capitalforenterprise.gov.uk/about
Remuneration for the chair of CfEL has been set at up to £25,000 per annum.

Lucy joined The Alchemists after an early career in private equity, corporate development and headhunting with 3i plc, Courtaulds Textiles and Tyzack. Her work involves matching up experienced and successful entrepreneurs with high growth mid-corporate businesses to accelerate their growth and success. Her experience ranges from funding start-up and early stage manufacturing businesses in the North East through to mergers and disposals of international operations. She is a non-executive of a venture capital investment group and angel network; a national qualification body and acting chair of Northumbria University. Lucy is chair of the CBI's SME Council. She recently participated in the Banking Taskforce and Future Shape of Business projects for the CBI and a similar BBC Governors' review of European Union coverage. She was educated at Oxford, holds an MBA and has recently completed a MSc in forensic psychology and criminology.

BIS's online newsroom contains the latest press notices, speeches, as well as video and images for download. It also features an up to date list of BIS press office contacts. See http://www.bis.gov.uk/newsroom for more information.
Notes to Editors
Contact Information
Name BIS Press Office Job Title
Division COI Phone
Fax
Mobile
Email NDS.BIS@coi.gsi.gov.uk
Name James Platt Job Title
Division Department for Business, Innovation and Skills Phone 020 7215 5978 Fax
Mobile
Email james.platt@bis.gov.uk
Published 27 January 2012