News story
New Chair at Postcomm
Ms Banerjee will take up the appointment on 16 January 2011. She replaces Nigel Stapleton, who has been Chair since 2004, and whose second term…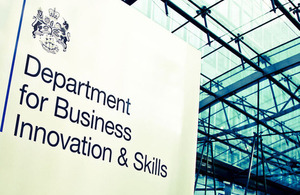 Ms Banerjee will take up the appointment on 16 January 2011. She replaces Nigel Stapleton, who has been Chair since 2004, and whose second term in the post is now coming to an end.
The Postal Services Bill, currently going through Parliament, provides for the transfer of regulatory responsibility for postal services from Postcomm to Ofcom. Subject to Parliamentary approval, Postcomm will be abolished in late 2011.
Edward Davey said:
"I'm delighted to make this appointment. Millie Banerjee's breadth of experience and knowledge of the postal industry will ensure that the transition from Postcomm to Ofcom is well managed, swift and smooth.
"I would also like to thank Nigel Stapleton for his important contribution over the past seven years. He has overseen a period of significant change and helped to establish a more competitive postal services sector."
Millie Banerjee said:
"This is a very important time for the postal services sector and Postcomm, working closely with Ofcom, has a vital role to play in bringing about a seamless transition to a new regulatory regime. Becoming the Chair of Postcomm is a huge honour and I am very much looking forward to working closely with the Postcomm Commissioners, its staff and all interested parties in the postal sector."
Ms Banerjee is highly experienced at Board level with very strong regulatory experience and a track record in operations management, consumer service and Human Resources policy - especially in the communications sector. She has been a member of the Ofcom Board since September 2002 and will remain on the Ofcom board until the end of her term as an Ofcom board member.
She was Chair of Postwatch, the postal services watchdog, and, in 2007, successfully oversaw the merger of postal representation into Consumer Focus. She is also the Chair of the British Transport Police Authority and a member of the Board of Newham Primary Care Trust and a Trustee of the Peabody Trust.
Ms Banerjee was educated at University College London and Woolwich Polytechnic and holds an Honorary Doctorate from Greenwich University.
Ms Banerjee will attend a hearing of the BIS Select Committee in early January to discuss her new role and the challenges the transition will bring.
---
Notes to editors
Postcomm is a non-Ministerial Department created by the Postal Services Act 2000. On Wednesday 13 October 2010, the Government introduced a new Postal Services Bill and published an accompanying document setting out its vision for the postal services sector. More information about the Postal Services Bill can be found on the BIS website at the following address: (http://www.bis.gov.uk/policies/business-sectors/postal-services).
As part of the Coalition Government's Bill, the responsibility for regulating the mail industry will transfer to Ofcom with Postcomm being subsequently abolished (subject to Parliamentary approval of the Bill). The abolition of the Postal Services Commission is also foreshadowed in the Public Bodies Bill.
This short term appointment was made in accordance with a competition restricted to Postcomm Commissioners and Ofcom Board members as agreed with the Office of the Commissioner for Public Appointments (OCPA).
Remuneration will be £51,600 per annum for a time commitment of 2 days a week.
All appointments are made on merit and political activity plays no part in the selection process. However, in accordance with the original Nolan recommendations, there is a requirement for appointees' political activity (if any declared) to be made public. Ms Banerjee has declared that she has not carried out any political activities on behalf of any political party over the past five years.
Ms Banerjee has the following public commitments: Ofcom Board Member (Two days a week £42,519 per annum) - though she will be reducing her Ofcom commitment to allow for her new appointment); British Transport Police Chair (60 days per annum £32,000); and, Board Member of Newham Primary Care Trust (2.5days per month - £7882 p.a.)
BIS' online newsroom contains the latest press notices, speeches, as well as video and images for download. It also features an up to date list of BIS press office contacts. See [http://www.bis.gov.uk/newsroom](http://www.bis.gov.uk/newsroom) for more information.
Notes to Editors
Contact Information
Name BIS Press Office Job Title
Division COI Phone
Fax
Mobile
Email NDS.BIS@coi.gsi.gov.uk
Published 15 December 2010