News story
New Chair appointed for Yorkshire Forward
Julie will start working as Chair designate from 6th December to ensure continuity during the changeover period. She will formally take over…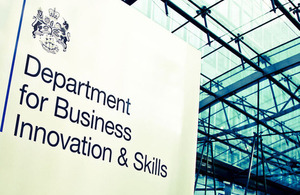 Julie will start working as Chair designate from 6th December to ensure continuity during the changeover period. She will formally take over from the current Yorkshire Forward Chair Terry Hodgkinson on 14December 2010 and the appointment will run until the close of Yorkshire Forward.
Dr Cable said:
"I am delighted to appoint Julie Kenny as the new Chair of Yorkshire Forward.
"Julie's impressive experience and business know-how will be vital in the ongoing work to wind down the regional development agencies. She will play an important role in what is set to be a challenging and complex time for development agencies across the country and her leadership qualities will allow for this process to happen as smoothly as possible."
The outgoing Chair of YF , Terry Hodgkinson said:
"The role of Yorkshire Forward's Chair is going to continue to be one of leadership in a challenging and rapidly changing environment, both for the economy and for the organisation, until our closure in March 2012.
"Julie Kenny has been a valued member of our board and a long standing and active member of the Yorkshire and Humber business community. We still have a multi-million programme to deliver and staff to support throughout this transition.
"I'm delighted to welcome Julie to this appointment as someone who will bring the right organisational knowledge, industry expertise and leadership to ensure that these priorities are achieved, with the utmost professionalism and to the highest standards."
Notes to Editors
Julie will receive £54,479 per year for a time commitment of 2 days per week.

Consistent with all other RDA Chair appointments, the term of appointment runs to 13th December 2012 or when the RDAs are wound up, whichever is sooner.

The appointment was made following open competition in accordance with the requirements set down in the Commissioner for Public Appointments Code of Practice. All appointments are made on merit and political affiliation plays no part in the selection process.

However, in accordance with the original Nolan recommendations, there is a requirement for appointees' political activity (if any declared) to be made public.

Julie Kenny has declared she is not involved in political activity.

Julie holds two other public appointments:
1) Doncaster MBC Commissioner and is remunerated up to £22,500 per annum depending upon the number of days committed.
2) UK Commission for Employment and Skills Commissioner and receives expenses only for this appointment.

Regional Development Agencies are non-departmental public bodies led by a Chair and have a Board of fifteen members representing business, local government, higher and further education, the voluntary sector and trade unions.

The coalition government has agreed to support the creation of Local Enterprise Partnerships to replace RDAs. The Government recognises the need for an orderly transition working with RDA Chairs and Chief Executives to ensure the least disruption.

BIS' online newsroom contains the latest press notices, speeches, as well as video and images for download. It also features an up to date list of BIS press office contacts. See http://www.bis.gov.uk/newsroom for more information.
Biography Julie Kenny CBE DL
---
Julie Kenny CBE DL is managing director of award winning Pyronix Ltd which she founded in 1986 and Chairman, CEO and majority shareholder of its parent company Secure Holdings Ltd.
Based in Rotherham, South Yorkshire, Pyronix manufactures an extensive range of electronic security equipment for intruder alarms. Right from the start, there was keen focus on innovation and quality that enabled the company to obtain an initial toehold in the market place. The company now exports more than 50% of its annual turnover to 65 countries around the world.
Since 1984 Julie has been involved in serving the business community and is currently board member of Creative Sheffield and Yorkshire Forward, is Chair of Governors at Maltby Academy and is on the Board of Governors at Mount St Mary's College. Julie has recently been appointed by Government as one of three commissioners to oversee improvements of governance at Doncaster Council.
Nationally, Julie is Commissioner with the UK Commission for Employment and Skills, and Chairman and Director of the British Security Industry Association.
In recognition of her contribution to the regions business and industry, Julie was awarded a CBE in the 2002 New Year's Honours List.
During 2005 Julie was appointed Deputy Lieutenant for South Yorkshire and in 2006 was conferred with an Honorary Doctorate from Sheffield Hallam University in recognition of her "outstanding contribution to Industry and the life of the region".
Julie had a successful career as a litigation lawyer in both local authority and private practice before changing direction and founding Pyronix.
Notes to Editors
Contact Information
Name BIS Press Office Job Title
Division COI Phone
Fax
Mobile
Email NDS.BIS@coi.gsi.gov.uk
Name Joanna Fletcher Job Title
Division Department for Business, Innovation and Skills Phone 020 7215 5951 Fax
Mobile
Published 3 December 2010