News story
New chair appointed for Companies House
This follows on from the Companies House Steering Board which has taken Companies House through a time of significant change under the chairmanship…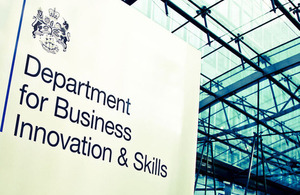 This follows on from the Companies House Steering Board which has taken Companies House through a time of significant change under the chairmanship of Andrew Summers.
The Chair will provide external advice and expertise to inform Companies House's decision making and business strategy as well as in the context of the broader development of a Public Data Group.
Business Minister Norman Lamb, said:
"I welcome Brian to his post in what is an important time for our trading funds and improving access to open data.
"Companies House plays a vital role in the business environment and is already providing high levels of customer service. They are embracing the digital age and I know that Brian's stewardship will ensure that Companies House continues to add significant value to British business."
Chair of Companies House, Brian Landers said:
"I am delighted to be appointed as the new Chair of Companies House. Companies House is an exciting organisation with a very strong reputation. It makes an immense contribution to the UK economy and I am very much looking forward to being a part of it."
**Notes to editors
**1. Brian Landers appointment to Companies House is for three years running from 1 August and his fee will be £28,450 per annum.
Brian Landers has served on the boards of various companies in the UK and overseas including Habitat, Waterstones and Penguin Books and was Finance Director of HM Prison Service. He was also Chief Internal Auditor of Sainsbury's and Deputy Chairman of the Financial Ombudsman Service. He is currently a member of the Competition Appeal Tribunal, an Audit Commissioner and Treasurer of the UK section of Amnesty International and has an MBA from London Business School.

On 28 June 2012 BIS announced the new chairs for the Public Data Group and Data Strategy Board responsible for maximising the value of public sector data, and making it more accessible and transparent.

The Government's economic policy objective is to achieve 'strong, sustainable and balanced growth that is more evenly shared across the country and between industries.' It set four ambitions in the 'Plan for Growth' (PDF 1.7MB), published at Budget 2011:
To create the most competitive tax system in the G20

To make the UK the best place in Europe to start, finance and grow a business

To encourage investment and exports as a route to a more balanced economy

To create a more educated workforce that is the most flexible in Europe.
Work is underway across Government to achieve these ambitions, including progress on more than 250 measures as part of the Growth Review. Developing an Industrial Strategy gives new impetus to this work by providing businesses, investors and the public with more clarity about the long-term direction in which the Government wants the economy to travel.
BIS's online newsroom contains the latest press notices and speeches, as well as video and images for download. It also features an up to date list of BIS press office contacts. See [http://www.bis.gov.uk/newsroom](http://www.bis.gov.uk/newsroom) for more information.
Notes to Editors
Contact Information
Name BIS Press Office Job Title
Division Department for Business, Innovation & Skills Phone
Fax
Mobile
Email bispress.releases@bis.gsi.gov.uk
Name Ed Smith Job Title
Division Department for Business, Innovation and Skills Phone 020 7215 5945 Fax
Mobile
Email ed.smith@bis.gsi.gov.uk
Published 26 July 2012