Press release
New chair announced for Veterans Review
Stephen Phillips QC MP has been appointed as the new lead for the review of veterans in the criminal justice system.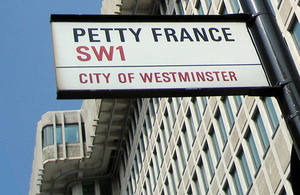 Stephen replaces Rory Stewart MP who has stepped down in order focus on his new role as Chair of the Defence Select Committee and avoid any potential conflict of interest.
Justice Secretary Chris Grayling ordered the review into the rehabilitation needs of ex-armed services personnel convicted of criminal offences and given a custodial or community sentence in January this year.
The review, which is expected to report back this autumn, is considering:
how ex-service personnel are identified on conviction
what advice and support is currently available to them
how to adopt and disseminate best practice relating to their rehabilitation needs, including taking evidence of effective interventions in other countries
consultation with the cross-Government Military Reference Group.
The latest figures available from 2009 suggest that former forces staff comprise around 3.5 per cent of the prison population (2,820) and around the same percentage of offenders on licence (5,860). Almost all convicted veterans are men from non-commissioned ranks and 80 per cent were army careerists.
Published 16 June 2014