World news story
New campaign: Multiple assets, multiple identities, multiple frauds
The Department for Work and Pensions (DWP) has just released a new campaign in the UK targeting benefit thieves in their local areas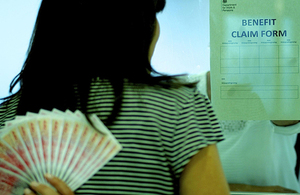 The objective the campaign is to reinforce an ongoing effort to get back the millions that are taken from the tax payer - 82 million for last year alone for abroad fraud cases.
There is no one 'type' of benefit thief, but the one thing they have in common is that they are all taking advantage and abusing the system. For example, Peter Fischer claimed over £85,000.00 in benefits using multiple identities. Not only was Mr Fischer claiming benefits while living abroad, he was also working in both the UK and Spain, where he had tried to operate a business, without informing the DWP. He also owned undeclared property in Spain. In July of this year Mr Fischer's case went to court and he was sentenced to 15 months imprisonment and suspended for 15 months.
In another recent case, 74 year old Dennis Troubridge, who was living in Murcia while claiming benefits, was sentenced to 16 months in prison, in September of this year. Mr Troubridge had been living in Spain from 2009, and had claimed over £135,000 in benefits with the assistance of his daughter, Poppy Bowling. Ms Bowling was sentenced to a Community Order for 12 months after providing her address in Dagenham as a benefit claim address for her father. She also dealt with benefit mail at her address and had control of one of her father's bank accounts allowing her to withdraw cash from one account and transfer it to an account he had control over.
In both cases, the benefit thieves had been claiming Income Support, Pension Credit, Disability Living Allowance and Housing Benefits, all of which are not exportable when living abroad.
New and improved methods are in place to target benefit thieves wherever they are and government departments are working together to catch anyone abusing the system. This also includes the traditional benefit fraud hotline, where DWP receives allegations from the public. The Spanish hotline [900 55 44 40] is free and confidential, and members of the public can call to report suspected benefit thieves in Spain. The line is open from 8am-4pm Spanish time. For further information on benefits you can receive while living abroad please visit this website
Published 27 October 2014