News story
New camera provides clear images of bowels of reactor
An off the shelf CCTV camera is providing crystal clear images from the depths of Dounreay's Prototype Fast Reactor (PFR).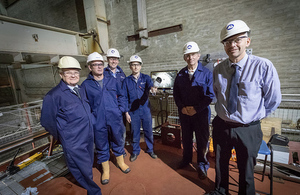 Fifty years on from the construction of PFR, the reactor decommissioning team is viewing footage that will enable it to pull apart the innards of the second and last fast reactor to be built in the UK.
The £50 camera will provide the project team with information for dismantling the plant and prepare it to move forward with the decommissioning programme.
Calder Bain, senior design engineer, said: "We are fifty years on from the decision to build the Prototype Fast Reactor and innovation has been the key to its success.
"There is a continual requirement for inventive methods to dismantle a complex nuclear reactor.
"The nature of the decommissioning work at Dounreay gives both our young and experienced engineers the opportunity to put their innovative skills and knowledge into practice."
Ken Heider, reactors project director said: "The reactor dismantling project is critical to the decommissioning of PFR.
"We need to use lateral thinking and unique ideas to design and build the necessary equipment to safely take apart the plant and remove the reactor vessel.
"The use of simple off the shelf equipment like this is a credit to all staff and contractors involved."
Published 22 August 2016