World news story
New British Ambassador to the DRC
The new British Ambassador to the Democratic Republic of Congo, Diane Corner, presented her credentials to President Kabila on 9 May 2013.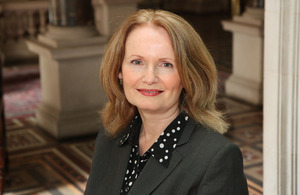 Ms Diane Corner is the first female British Ambassador to the country.
The new Ambassador starts her time in the DRC against the backdrop of international efforts to find a lasting peace to the conflict in the east.
Following the presentation of credentials, the Ambassador said:
"I am pleased to have been appointed as British Ambassador to the DRC, a fascinating country. I am starting at an interesting and decisive time for both DRC and the region. The signing of the framework agreement in Addis Ababa, the deployment of the international brigade with a strengthened mandate, and the appointment of Mrs Mary Robinson as Special Envoy for the Great Lakes Region offer a real opportunity for a lasting peace. The United Kingdom is committed to supporting this work to put an end to the conflict.
I also look forward to broadening and deepening the relations between the United Kingdom and the DRC. Through the UK's Department for International Development, we will remain major development partners of the DRC, working together to improve health and education services, infrastructure and economic development. I look forward also to helping to tackle some of the challenges to business in the DRC, in the hope that it will encourage further British investment here."
Published 10 May 2013