World news story
New British Ambassador to Bulgaria presents her credentials to President Plevneliev
The new British Ambassador to Bulgaria Emma Hopkins OBE presented her Letters of Credence to the President of the Republic of Bulgaria Rosen Plevneliev on 19 May 2015.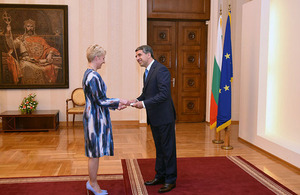 Today, 19 May 2015, Emma Hopkins OBE officially took up the post of Her Majesty's Ambassador to Bulgaria.
On presenting her credentials, Mrs. Emma Hopkins OBE said:
I am delighted to take up the post of Her Majesty's Ambassador to Bulgaria and to work on deepening the relationship between our two countries. I am particularly looking forward to exchanging experience on the Rule of Law and opportunities for enhancing our bilateral trade. I have already seen for myself the beauty of Bulgaria and felt the warm welcome of the Bulgarian people. I look forward to learning more about the culture and unique traditions of your country.
Mrs. Emma Kate Hopkins OBE has been appointed Her Majesty's Ambassador to Bulgaria in September 2014. In the last few months she underwent extensive language training in Bulgarian in the UK and in Bulgaria.
Before her appointment in Sofia, Emma Hopkins led the UK government's Preventing Sexual Violence Initiative (PSVI) to end impunity for sexual violence committed in war. The campaign included the Global Summit to End Sexual Violence in Conflict – which brought together over 125 countries in the largest gathering ever on this topic. She was awarded the Officer of the Most Excellent Order of the British Empire (OBE) in the 2014 Queen's Birthday Honours List, for services to preventing sexual violence in conflict affected countries.
Mrs. Hopkins's career in government has included leading legal and policy teams at a senior level. She has worked on immigration and asylum, human rights, EU justice and home affairs, international criminal law, organised crime, as well as violence against women. Between 2006 and 2008, she developed the UK strategy on human trafficking and delivered it through a national and international campaign. For her work, in 2008, Emma Hopkins received the Civil Servant of the Year Award for outstanding contribution to public service and in 2014 her team were given the Civil Service International Award for their work on the PSVI campaign.
Emma Hopkins graduated from Cambridge University with a degree in Law. She was called to the Bar in 1995 and practiced as a barrister until 2001 when she entered public service.
Emma Hopkins has a special interest in the Balkans. She has visited the region in the past and worked on topics related to the region. She is married to Steven Hopkins and they have two young daughters.
Follow Ambassador Emma Hopkins on Twitter @EHopkinsFCO Watch Ambassador Emma Hopkins's introduction video
Published 19 May 2015