World news story
New British Ambassador in Argentina
The new British Ambassador presented the copies of his credentials to the Argentine Vice Minister of Foreign Affairs, Carlos Foradori.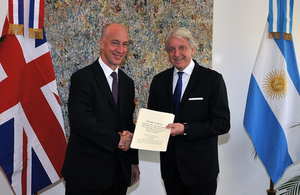 Mark Kent has now officially taken up his role and will head the embassy for the next four years.
Kent was Ambassador in Thailand until April this year, and before that he held the same position in the British Embassy in Vietnam. He has served in the British Embassies in Mexico City and Brasilia, as well as the UK Representative to the European Union, and Supreme Headquarters Allied Powers Europe (SHAPE).
His first posting overseas was in 1989, when he was appointed Second Secretary in Brasilia, in the Press and Political section. He entered the diplomatic service in 1987, as an assistant officer in the Near East and North African Directorate in the Foreign Office.
Published 25 July 2016