Press release
New Bridge opens at A38 Dry Bridge in Devon
A 1.9 million project to replace a bridge over the A38 near Rattery was officially opened on Saturday at a ceremony attended by over 40 members of the local community.
This news article was withdrawn on
This document is no longer current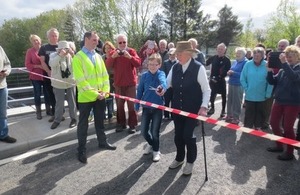 Dry Bridge spans the A38 trunk road between Marley Head and Lower Dean junctions. The concrete in the 1,400 tonne bridge was suffering from alkali silica reaction, commonly known as 'concrete cancer' and was demolished last November during a 15 hour operation.
The new structure, which consists of a steel framework with a concrete deck, has been constructed on new foundations and was craned into place during four further overnight trunk road closures in February.
Project sponsor Mike Hillier said:
We worked closely with the local communities to keep them fully informed of our plans and are grateful to them for bearing with us during the demolition and rebuild.

There were challenges for the project team because of restricted working areas and the need to keep four lanes open during the day.

We were pleased to minimise disruption for road users by limiting the road closures to overnight operations, which was quite an achievement for a project of this size. And whilst the closures were in place we also took the opportunity to carry out some resurfacing of the A38 either side of the bridge.
During the project 300 operatives and staff worked on site over 30 weeks, with 1400 tonnes of demolition material taken away for recycling by six dumper trucks, each making 80 trips.
The project also used resources from 20 local businesses and over 1,100 tonnes of stone and 3214 tonnes of concrete sourced from nearby Ashburton.
Rattery Parish Council chairman, Peter Smerdon, said:
The communities of Rattery and Dean Prior are very thankful to now be able to use the fantastic new bridge. We are very pleased with the new structure, and very grateful that Highways England were able to secure funding .
General enquiries
Members of the public should contact Highways England Information Line on 0300 123 5000.
Media enquiries
Journalists should contact Highways England press office on 0844 693 1448 and use the menu to speak to the most appropriate press officer.
Published 20 May 2015