Press release
New board members for the Higher Education Funding Council for England (HEFCE)
David Willetts appoints Peter Houillon and Apurv Bagri to the board of the Higher Education Funding Council for England (HEFCE).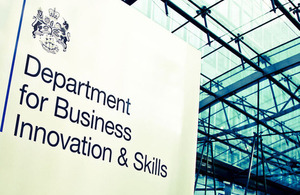 Universities and Science Minister David Willetts today (6 February 2014) announced the appointment of 2 new members to the board of the Higher Education Funding Council for England (HEFCE).
The new board members are Peter Houillon with effect from 1 February 2014 and Apurv Bagri with effect from 1 March 2014.
Peter Houillon is taking up the post made vacant by Madeleine Atkins' appointment as CEO of HEFCE. Apurv Bagri replaces outgoing board member Rene Olivieri.
David Willetts said:
I am delighted to welcome Peter Houillon and Apurv Bagri to the HEFCE board. The government's higher education reforms have introduced more competition into the sector. In Peter and Apurv we are appointing, for the first time members with experience of private sector provision who can represent that voice on the HEFCE board.
Notes to Editors
HEFCE was established on 6 May 1992 under the terms of the Further and Higher Education Act 1992 and assumed responsibility for funding higher education in England on 1 April 1993, succeeding the Universities Funding Council and the Polytechnics and Colleges Funding Council.

HEFCE's main functions are to advise the Secretary of State for Business, Innovation and Skills on the funding needs of higher education institutions in England and to distribute available funds. In 2013 to 2014 HEFCE is distributing over £4.5 billion to support teaching and research in 130 institutions of higher education and higher education courses at over 150 further education colleges.

Members of the board, including the Chair and Chief Executive, have collective responsibility for the control and management of HEFCE as a corporate body. The board is responsible for developing policies and ensuring that projects, programmes and activities undertaken by HEFCE are consistent with the overall provisions of the FHE Act and any guidance or directions issued by the Secretary of State.

Peter Houillon is the Chief Executive Officer of Kaplan UK and Ireland, which delivers professional training for qualifications, business and management courses, and higher education programmes. He has been influential in transforming the performance and profile of qualification training in the UK through the implementation and operation of e-learning, publishing and innovative delivery. Previously, Peter was chief operating officer and head of Kaplan's London training operations. He is a qualified accountant with a professional practice background and more than 20 years of experience in business and financial education and training. As a committed educationalist, Peter is passionate about providing the best support and learning environment for candidates and employers.

The Hon Apurv Bagri is President and CEO of the Metdist Group of companies. He is an Honours graduate in Business Administration from Cass Business School and has an Honorary Degree of Doctor of Science from City University London. He currently serves as Deputy Chairman of London Business School and from May 2014 will become Chairman of the School's Governing Body. He is the former Pro-Chancellor and Chair of Council of City University London where he is now an Honorary Rector, and he is a visiting Professor at Cass Business School. He is a member of the Corporation, University College School. He is Chairman of the board of The Royal Parks, a Member of the board of the Dubai Financial Services Authority (DFSA), a past Chairman and current board member of the International Wrought Copper Council, a Commissioner of the Crown Estate Paving Commission, a Trustee of Asia House, and a past Chairman and current board member of TiE Inc, a global not-for-profit organisation which fosters entrepreneurship.

Membership of the HEFCE board carries with it an honorarium of £5,000 per annum.

Recruitment to the HEFCE board follows the Code of Practice for Ministerial Appointments to Public Bodies set by The Office of the Commissioner for Public Appointments – previously known as OCPA.

The government's economic policy objective is to achieve 'strong, sustainable and balanced growth that is more evenly shared across the country and between industries'. It set 4 ambitions in the 'Plan for Growth', published at Budget 2011:
to create the most competitive tax system in the G20
to make the UK the best place in Europe to start, finance and grow a business
to encourage investment and exports as a route to a more balanced economy
to create a more educated workforce that is the most flexible in Europe
Work is underway across government to achieve these ambitions, including progress on more than 250 measures as part of the Growth Review. Developing an Industrial Strategy gives new impetus to this work by providing businesses, investors and the public with more clarity about the long-term direction in which the government wants the economy to travel.
Published 6 February 2014