Press release
New board members for the Gangmasters Licensing Authority
Six new representative members appointed to the Board of the Gangmasters Licensing Authority (GLA) and ten current members reappointed.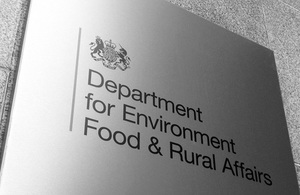 Six new representative members have been appointed to the Board of the Gangmasters Licensing Authority (GLA) and ten current members have been reappointed for a further term.  
The appointments commenced on 1 April 2012 and last for a period of between two and three years.  GLA Board member positions do not attract remuneration, although members are entitled to claim reasonable travel expenses.
The appointments have been made by the Secretary of State.  They comply with the Code issued by the independent Office for the Commissioner for Public Appointments.   
Those newly appointed are:
Catherine Pazderka (representative of the British Retail Consortium);
Ivan Bartolo (Seafish Industry Authority);
Cath Speight (Unite);
Angela Coleshill (Food and Drink Federation);
Councillor Paul Bettison (Local Government Regulation); and
Hayley Campbell-Gibbons (National Farmers Union).
Those reappointed are:
David Camp (Association of Labour Providers);
Joanne Young (Association of Labour Providers);
Sharon Cross (National Farmers Union England);
Nigel Jenney (Fresh Produce Consortium);
Russell Hardy (Police Superintendents Association);
Jane Mordue (National Association of Citizen Advice Bureaux);
Marshall Evans (Recruitment & Employment Confederation);
Hannah Reed (Trades Union Congress);
Gillian Mills (Shellfish Association of Great Britain); and
Graham Bruce (National Farmers Union Scotland).
Notes
 The GLA is a Defra sponsored Non-Departmental Public Body responsible for the operation of licensing arrangements for those who supply labour or use workers to provide services in agriculture, forestry, horticulture, shellfish gathering and food processing and packaging.
 Representative members of the GLA Board are appointed following nomination by the relevant representative organisations listed in Schedule 1 to the Gangmasters (Licensing Authority) Regulations 2005 and an OCPA approved selection process.
Find out more about the GLA.
Published 10 April 2012