News story
New Board members appointed to the Technology Strategy Board
The newly-appointed board members are Douglas Richard and Hazel Moore, who will serve on the Board up to 30 June 2015. The reappointed board…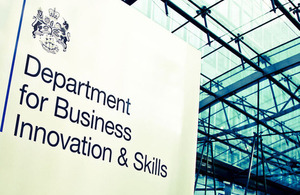 The newly-appointed board members are Douglas Richard and Hazel Moore, who will serve on the Board up to 30 June 2015. The reappointed board members are Sir Christopher Snowden, Sara Murray and Stewart Davies who will serve for a further period of three years, also up to 30 June 2015.
Business Secretary Vince Cable said:
"The Technology Strategy Board has an important role in our plans to create the best conditions for balanced and sustainable growth by stimulating advancing technology development and innovation. Doug Richard and Hazel Moore will build on the strong mix of business talent, insight and experience on the Governing Board."
Universities and Science Minister David Willetts said;
"Doug Richard and Hazel Moore will bring a breadth of experience to their roles on the Board of the Technology Strategy Board. I am looking forward to working alongside them and continuing to work closely with Sir Christopher Snowden, Sara Murray and Stewart Davies. The challenges now facing the Technology Strategy Board are to develop the package of support we offer for our small and medium sized firms and to continue to boost business investment in technology and innovation to ensure UK success in the global economy."
The Chair of the Technology Strategy Board, Phil Smith, said:
"It's great to be able to welcome such experienced and knowledgeable new members to the Board and to retain some existing strengths with the reappointments. The Technology Strategy Board is the UK's innovation agency and so it's essential that we have a rich and diverse pool of business expertise on the Governing Board. It's our job to help ensure the organisation builds on its current strengths and continues to encourage innovation and business growth. I would also like to express my deep thanks to the outgoing members, Anne Glover and John Brown for their long and distinguished service."
**Notes to Editors
**1. The Technology Strategy Board is the UK's innovation agency. Its goal is to accelerate economic growth by stimulating and supporting business-led innovation. Sponsored by the Department for Business, Innovation and Skills (BIS), the Technology Strategy Board brings together business, research and the public sector, supporting and accelerating the development of innovative products and services to meet market needs, tackle major societal challenges and help build the future economy. For more information please visit www.innovateuk.org.
These appointments have been made in accordance with the requirements of the Code of the Commissioner for Public Appointments. All appointments are made on merit and political activity plays no part in the selection process. None of the appointees have declared any political activity in the last five years.

Board members of the Technology Strategy Board receive remuneration of £9,180 per year.
4.** Douglas Richard **is a successful entrepreneur with over 20 years' experience in the development and leadership of technology and software ventures, Doug featured in the first two TV series of Dragons' Den. He is an active angel investor, the Founder of School for Startups - www.schoolforstartups.co.uk was Chairman of the Conservative Party Small Business Task Force, is non-executive director of BrightPearl Software. Between 1996 and 2000 Doug was President and CEO of Micrografx, a US publicly quoted software company. Prior to that he also founded and subsequently sold two other companies: Visual Software and ITAL Computers.
Doug holds a BA in Psychology from University of California at Berkeley and a Juris Doctor at the school of Law, University of California at Los Angeles. In 2006 Doug was the first American to receive The Queen's Award for Enterprise Promotion, in 2007 he became a fellow of the RSA. In 2009 Doug received an Honorary Doctorate of the University of Essex for his contribution to entrepreneurship education. In 2010 Doug was awarded Enterprise Educator of the Year. In 2010 and 2011 he was a guest lecturer on Entrepreneurship at Cambridge University for the Nanotech Masters and PHD programme
5.** Hazel Moore** is the chairman of FirstCapital, a technology-specialist investment bank which she co-founded in 1999. Her experience spans advising technology companies on venture capital and private equity, mergers and acquisitions, as well as advising family offices, institutional and strategic investors on investments and portfolio strategies.
Hazel is on the Investment Advisory Panel for the North West Fund, a £170m evergreen investment fund focused on small and medium sized enterprises in the North West of England, financed by the European Regional Development Fund and the European Investment Bank.
Previously Hazel was based in Hong Kong and London for W.I. Carr, a leading Asian institutional stockbroker. Hazel began her career with GEC Marconi. She has an MA in Natural Sciences from Cambridge University, and is a Chartered Financial Analyst.
6. Dr Stewart Davies is Managing Director of Romec Limited and of Balfour Beatty Technical Services. He graduated in physics, going on to take a PhD in Materials Science, both at the University of Cambridge. He joined ICI and worked in manufacturing and commercial roles in its Petrochemicals, Catalyst & Technology Licensing and Polyester Intermediates divisions. His twenty years experience in general management and strategy includes Managing Director roles in Corus, Rugby Cement and Serco, where he became Strategy Director, Serco Integrated Services. He joined Romec and Balfour Beatty in 2010. He is a Fellow of the Institute of Physics.
He was a board member of the Building Research Establishment Trust from 2004-6. As Business Commissioner at the Sustainable Development Commission from 2006-10, he led its input to the government's Business Taskforce on Sustainable Production & Consumption, Building Schools for the Future, the government's Strategy for Sustainable Construction, the Industrial Biotechnology Innovation & Growth Team and Mobility 2020.
At the Technology Strategy Board, Stewart chairs the Resource Efficiency Steering Group and is chairman of the Interim Advisory Group for the Satellite Applications Catapult.
**Professor Sir Christopher Snowden **is Vice-Chancellor and President of the University of Surrey. He is a Vice-President of the Royal Academy of Engineering, chairing the Engineering Policy Committee and a Vice-President of Universities UK. He is a member of the Prime Minister's advisory Council for Science and Technology. He is an advisor to DMD Ltd. Prior to his appointment at Surrey in 2005, he was Chief Executive Officer of Filtronic ICS, having joined Filtronic plc in 1998 and being promoted to Joint Chief Executive Officer in 1999. His early experience was with Mullard Ltd and Racal MESL Ltd. He later worked as the Senior Staff Scientist in Corporate Research and Development at M/A-COM Inc. in the USA. He has been a consultant for several major international technology companies and has held a number of non-executive directorships. He is a Fellow of the Royal Society, the Royal Academy of Engineering, the IET, City and Guilds of London Institute and the IEEE.
In the New Year's Honours List of 2012, Christopher was awarded a Knighthood in recognition for his services to Engineering and to Higher Education.
Sara Murray OBE (M.A. Oxon) is a serial entrepreneur. She founded Ninah Consulting, which uses proprietary software to advise multinational clients on marketing effectiveness. In 1999, Sara founded Inspop.com Ltd, which owns the brand Confused.com. She then founded and now runs Buddi, which provides technology and services for the remote health and location monitoring of people. Sara was a non-executive Director of Schering Health Care and is a founding board member of Seedcamp - a start-up school for technology entrepreneurs, as well as sitting on Vince Cable's Entrepreneurs' Forum. Sara won the National Business Awards Entrepreneur of the Year in 2009 and in the Queen's Birthday Honours List of 2012, she was awarded an OBE in recognition of her services to entrepreneurship and innovation. Sara has recently been appointed SME Advisor to the Government Procurement Service.

The Government's economic policy objective is to achieve 'strong, sustainable and balanced growth that is more evenly shared across the country and between industries.' It set four ambitions in the 'Plan for Growth' (PDF 1.7MB), published at Budget 2011:
To create the most competitive tax system in the G20

To make the UK the best place in Europe to start, finance and grow a business

To encourage investment and exports as a route to a more balanced economy

To create a more educated workforce that is the most flexible in Europe.
Work is underway across Government to achieve these ambitions, including progress on more than 250 measures as part of the Growth Review. Developing an Industrial Strategy gives new impetus to this work by providing businesses, investors and the public with more clarity about the long-term direction in which the Government wants the economy to travel.
BIS's online newsroom contains the latest press notices and speeches, as well as video and images for download. It also features an up to date list of BIS press office contacts. See [http://www.bis.gov.uk/newsroom](http://www.bis.gov.uk/newsroom) for more information.
Notes to Editors
Contact Information
Name BIS Press Office Job Title
Division Department for Business, Innovation & Skills Phone
Fax
Mobile
Email bispress.releases@bis.gsi.gov.uk
Name Nick Evans Job Title
Division Department for Business, Innovation and Skills Phone 020 7215 3496 Fax
Mobile
Published 23 August 2012