News story
New Assembly and Executive can see in a new era of progress
The Secretary of State Owen Paterson MP commented on the positive prospects of the newly elected Assembly and the soon-to-be-formed Executive.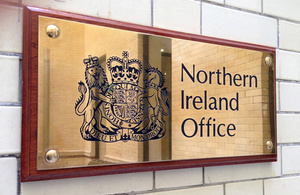 The Secretary of State Owen Paterson MP has said that the newly elected Assembly and the soon to be formed Executive can make a real difference to people's lives in Northern Ireland and see in a new era of economic and social progress.
Mr Paterson was speaking at the Institute of Directors, Celtic Network Dinner at the IoD's headquarters in Pall Mall, London tonight.
Mr Paterson was joined by the Secretary of State for Scotland, Michael Moore MP and the Secretary of State for Wales, Cheryl Gillan MP.
Mr Paterson said:
All the parties in the new executive and Assembly will now need to address the economic challenges that lie ahead.  
I want to do all I can to help rebalance the economy by encouraging the growth of a vibrant and expanding private sector.
As you know in Northern Ireland we are currently consulting on the question of devolving corporation tax to the Assembly.
That consultation runs until 24 June; I would urge every business in Northern Ireland to make its voice heard.
Northern Ireland has unique circumstances within the United Kingdom.
No other part of the UK suffered from decades of terrorism that undermined the efforts of successive government's to attract inward investment and create the conditions for businesses to expand.
And no other part of the UK shares a land border with the Republic of Ireland and close trading links with a jurisdiction where the rate is set at 12.5%.
Already Northern Ireland is a great place to invest.  
It has a flexible and open economy.  Over 700 foreign investors and a multitude of investors from the rest of the UK have chosen to locate there.
We have one of the youngest populations in Europe and GCSE and A-Level results are consistently higher than in other parts of the UK.
We have two world-class universities in Queen's and the University of Ulster.
We're the first region in Europe to have 100% broadband coverage.
And in Project Kelvin we have a new 40 gig per second transatlantic link between North America, Northern Ireland and Western Europe.
Northern Ireland's people have a strong work ethic and are highly loyal with labour turnover rates amongst the lowest in Europe.
So we will work with the Executive to help create wealth for the benefit of the whole community by strengthening the economy and helping it grow making Northern Ireland an even better place to do business.
Published 10 May 2011