Press release
New ARC-Boat to help Shropshire prepare for flooding
ARC-Boat number 50 will be the newest Environment Agency recruit helping to issue quicker and more accurate flood warning information.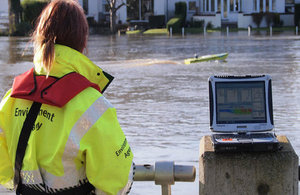 Environment Agency Water Resources teams were involved at the development stage of the boats and following initial operational success, staff quickly identified its ability to assist in the flood monitoring process.
In Shropshire, this boat will be used to measure flows at the Severn/Vyrnwy confluence to improve flood warning models. During times of high river levels, the boat may be seen at sites along the River Severn including Montford, Shrewsbury, Ironbridge and Bridgnorth. The boat will be used to survey the river bed of the Severn, Teme and Tern, which will send important information to the Environment Agency teams.
The benefits explained
Rob Davies from the Environment Agency said:
These boats will enable us to measure a full range of flows at sites like Onibury on the River Onny near Ludlow. These measurements are really important as it gives us the data we need to give more accurate and quicker flood warnings to local communities.
The boats are manufactured by HR Wallingford in Oxfordshire and have been supplied to clients around the world including Canada, New Zealand, France, Azerbaijan. The Environment Agency already has around 30 of these boats in operation, but this one is special as it is the 50th boat to be produced.
Rob explained that the Environment Agency first used an ARC-Boat on the River Thames in 2011.
The boats are remote controlled and measure the speed and depth of the water to enable it to calculate river flow. They allow us to easily and safely reach places where humans can't, such as under bridges or during high-flows/floods. Ultra-sound pulses, similar to that used to scan pregnant women, are used to collect important data from the river. This data helps us to monitor flows in the river which in turn helps our flood and water teams assess what action is required, for example, to determine where defences may be required.
The 50th ARC-Boat
Keith Powell from HR Wallingford said:
Delivery of ARC-Boat number 50 is an important milestone for us. Handing it over to one of the Environment Agency's teams is particularly satisfying, as their staff played an important role in its development. With the ARC-Boats they are mapping more of our rivers and in greater detail than was previously possible, and the data they are collecting will improve the accuracy of flood warnings. We are pleased to be able to support their work.
The boats are just one of the tools that Environment Agency teams use in the flood warning and informing process. For further information about how to prepare for flooding and find out if your home is at risk you can view Environment Agency flood information online or call Floodline on 0845 988 1188.
Published 17 November 2014