New approach to community payback will raise confidence in community punishment
A new approach to Community Payback that aims to reform the sentence radically was announced today.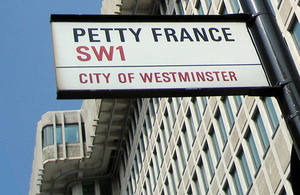 A new approach to Community Payback that aims to reform the sentence radically was announced today as SERCO, in partnership with London Probation Trust, is preparing to take over its delivery for the first time.
From October this year SERCO and London Probation Trust will run Community Payback across London, helping to more effectively punish and reform the 15,000 offenders who receive the sentence each year in the capital. The penalty sees offenders visibly paying back to their communities through appropriate work, including tough physical work clearing-up local 'grot spots'.
The innovation and capacity of the private sector in a new partnership with the Probation Service will help to reform the sentence so it better tackles reoffending, commands public confidence and delivers greater value.
The new four-year London contract will save taxpayers £25 million and ensure:
offenders begin paying back within seven days of sentencing
better links with communities so offenders pay back in the area, or even street, their crime was committed in
unemployed offenders pay back over four full days a week; and
swift, robust action is taken against offenders who misbehave or fail to attend.
Probation Minister Crispin Blunt MP said:
'Community Payback is a sound principle, with offenders being punished making reparation through unpaid work to the neighbourhoods where they have brought misery and fear. But it is not meeting its full potential and does not command the confidence of the public. 
'This new provision is a real game -changer, making the payback real, driving innovation and value through the criminal justice system. In time, this approach will be copied throughout England and Wales, leading to offenders making real reparation, restored and safer communities and fewer victims of crime.
'I congratulate SERCO and London Probation Trust on winning the contract and look forward to seeing how they will deliver for us over the coming months and years.'
Jeremy Stafford, Chief Executive of Serco UK & Europe CEO, said
'We are delighted to have been chosen to deliver this crucial public service for London. With our partners in London Probation Trust we can make Community Payback a really effective part of the criminal justice system, giving offenders challenging and demanding work which will directly benefit the communities affected by their crimes. Serco is proud to play a part in making justice visible and efficient and to help break the cycle of re-offending.'
This is the first time a major area of probation work has been opened up to the private sector through a competitive bidding exercise. This ran over the last 12 months and saw a variety of bidders come forward with proposals. It also represents a milestone in a broader Government drive that will see more public services opened up to competition.
London Probation Trust's Chief Executive, Heather Munro said:
'Community Payback is a popular and effective sentence where a million hours of work has been delivered annually over recent years.  London Probation Trust is delighted to play a key role in this innovative approach which will see the quality of Community Payback maintained but the cost reduced. Our partnership with SERCO will build on the existing good practice and strong relationships with beneficiaries and sentencers in London. Together we will challenge offenders to make amends while learning new skills and turning away from crime, helping us to achieve our mission of changing lives for a safer London.'
A public consultation into the future of the Probation Service closed last month and will set out plans to compete Community Payback across England and Wales along with the management of low risk offenders.
Notes for editors:
Further details on the Government's competition strategy

Further details on the Probation Review consultation

The bidders for the competition were:
• Serco and London Probation Trust as a sub-contractor
• Sodexo and Essex Probation Trust as a sub-contractor
• com:pact (Mitie & A4E)
Last year 1,319,438 hours of Community Payback were worked by offenders in London on projects which benefited local communities. Calculated at London Living Wage levels the value of this work was worth over £10million.
For more information please contact Hugo Biggs at the Ministry of Justice Press Office on 020 3334 3514.
Published 13 June 2012