News story
New apprenticeship programme helps Dounreay tradesmen
Dounreay helps existing staff develop their skills.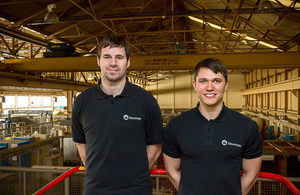 Dounreay's Greg Cormack and Jimmy Budge are examples of how, in its 60th year, the Dounreay apprenticeship programme is also helping our existing staff to develop their skills.
The scheme takes into account their previous work experience which allows them to complete the apprenticeship programme in a shorter timescale.
Greg became a mature apprentice last year, having started on site at PFR in 2011 through the Dounreay sponsorship scheme with UHI North Highland College. He left briefly in 2012 and returned in 2013 as a craft assistant, working with the instrument team and based one day per week in the site workshop assisting with weekly maintenance.
Whilst working alongside the instrument team he began to take on more responsibility and carry out more instrumentation work. This gave him the confidence to consider a mature apprenticeship. Now working in the fuel cycle area workshop his duties vary depending on the priority of the work that comes in.
Talking about his new role, Greg said: "I enjoy being continually exposed to new tasks and challenges and developing my understanding of the different systems at Dounreay. At the moment I am focused entirely on completing my apprenticeship while finishing my mechanical engineering degree. Then hopefully I'll be going on to an electrical and electronics honours degree. I am very grateful to Dounreay for this opportunity."
Before coming to Dounreay, Jimmy worked at City Electrical Factors in Wick and at Norfrost before that. He started on site in 2012 as a technical assistant with the steam and water team.
Jimmy's job now involves all sorts of work from fan maintenance, pump overhauls, manufacturing new ladders to crane gantries and a complete strip down of site boilers.
Jimmy said: "After passing some tests and interviews I was delighted to be accepted as one of the site's first mature apprentices. I am now working with the tradesmen in the fuel cycle area workshops, enjoying getting to see different parts of the site and carrying out new tasks and jobs.
"My long-term goal is simply to achieve my trade ticket which I'd originally started twelve years ago with Norfrost before they went into liquidation. I appreciate the support DSRL is giving me and allowing me to gain my trade while still working on site and living in Caithness."
Published 27 January 2016