Press release
New apprenticeship centre to help resolve skills shortages
Oxford Advanced Skills is set to help resolve the skills shortages facing high technology and engineering companies in Oxfordshire.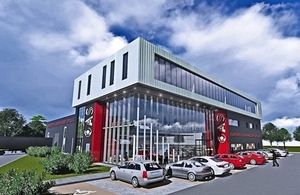 The new centre, which will eventually train 125 young people a year, is a joint venture between the UK Atomic Energy Authority (UKAEA) and the Science and Technology Facilities Council (STFC). Leading training provider JTL has been appointed to manage the centre commencing from September 2016.
Oxford Advanced Skills, under the leadership of project sponsor David Martin – an ex-UKAEA apprentice himself – will raise the quality and standard of local apprenticeships through employer-led training. The new centre will provide employers in Oxfordshire's high tech sector with 'work-ready' trainees, apprentice engineers and lab technicians by giving apprentices skills and self-discipline through training in the workplace. The centre delivers added value by working closely with local companies, enabling them to directly input into the qualification to ensure the training provides the apprentices that local businesses need. As a not-for-profit endeavour, all funds will be invested to deliver training and to ensure quality.
David Martin, UKAEA's Chief Operating Officer, says:
With the support of high tech sector companies in the area, Oxford Advanced Skills will help resolve the critical skills shortages we are currently experiencing. This venture highlights how seriously we take the need for exceptional quality young people making it into the workforce in this area. JTL has huge experience in providing work-based learning across England and Wales, with over 6,000 apprentices currently working towards qualifications with them across the building services engineering sector.
Jon Graham is JTL's Chief Executive:
These are really exciting times for apprentices in the Oxford area. We have been working in Oxfordshire for many years but decided recently that in order to be able to provide the quality of training that young people deserved we needed to launch our own training facilities, which we have now achieved with our premises at Culham. Through the work we do there and what UKAEA have seen while on site, it became obvious that there was an opportunity to expand our remit and join with UKAEA to develop this new facility, targeting exceptional young people who are needed by high technology companies operating in Oxford and the Thames Valley.
If you would like further details of the centre, or if you are a high technology business operating in the area that wants to get involved, or if you are interested in applying for an apprenticeship at the new facility, contact Stephen Hall, Oxford Advanced Skills Project Leader, at stephen.hall@ukaea.uk or call JTL customer services on 0800 085 2308.
Ends
Image attached showing artist's impression of the proposed Oxford Advanced Skills building at Culham Science Centre (the training facility will initially operate from an existing building on the site). For further information, please contact: Nick Holloway, UK Atomic Energy Authority Media Manager, at nick.holloway@ukaea.uk or on 01235 466232.
Notes to Editors:
United Kingdom Atomic Energy Authority
The UK Atomic Energy Authority (UKAEA) carries out fusion energy research on behalf of the Government at Culham Science Centre near Abingdon in Oxfordshire. It is also developing Culham as a location of high tech research and business, with around 40 tenant companies now on site and the new RACE and Materials Research Facility opening in early 2016.
UKAEA's fusion lab Culham Centre for Fusion Energy oversees Britain's fusion programme, headed by the MAST (Mega Amp Spherical Tokamak) experiment. It also hosts the world's largest fusion research facility, JET (Joint European Torus), operated for European scientists under a contract with the European Commission.
Fusion research aims to copy the process which powers the Sun for a new large-scale source of clean energy here on Earth. When light atomic nuclei fuse together to form heavier ones, a large amount of energy is released. To do this, gaseous fuel is heated to extreme temperatures, hotter than the centre of the Sun, forming a plasma in which fusion reactions take place. A commercial power station will use the energy from neutrons produced by fusion reactions to generate electricity.
Further information is available at www.gov.uk/ukaea
JTL
Established over 25 years ago by the Electrical Contractors' Association and Unite the Union, JTL is a charity organisation offering advanced apprenticeships, traineeships, assessment services and professional development training across the electro-technical and mechanical engineering services sectors.
We currently work with over 6,000 learners and 3,500 employers across England and Wales in more than 100 locations, including dedicated JTL training facilities in Orpington, Birmingham, Tankersley, Wrexham, Norwich, Yeovil and Oxford.
More information: www.jtltraining.com
UK Atomic Energy Authority apprenticeship scheme
The UK Atomic Energy Authority runs an engineering apprenticeship scheme to train young people with the skills needed to work on its fusion energy programme and other hi-tech research at Culham Science Centre. The four-year training programme is managed in partnership with Abingdon & Witney College. The scheme and individual apprentices have received numerous awards, including being named in the National Apprenticeship Service's Top 100 Employers. In 2016 UKAEA won the contest for England's Apprentice Team of the Year, the Brathay Apprentice Challenge.
More information: www.culhamapprenticeshipscheme.com
Published 18 August 2016