News story
New appointments to Youth Justice Board
Four new board members have been appointed to the Youth Justice Board with effect from July 2013.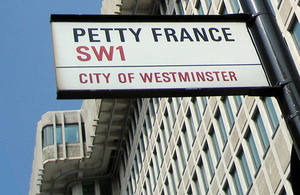 Amanda Sater, Neil Rhodes, Rob Butler and Seamus Oates were appointed this month, and will bring with them experience ranging from the police to magistracy to education.
The Secretary of State for Justice, Chris Grayling, who made the appointments said:
'I am pleased to announce the appointment of four new members to the Youth Justice Board.
'All four individuals bring with them expertise and experience from different youth justice areas.'
Notes to Editors
The Youth Justice Board for England and Wales (YJB) is an executive non-departmental public body. Its board members are appointed by the Secretary of State for Justice. The YJB; oversees the youth justice system in England and Wales, works to prevent offending and reoffending by children and young people under the age of 18, and ensures that custody for them is safe, secure, and addresses the causes of their offending behaviour.
The appointments have been conducted in accordance with the Office of the Commissioner for Public Appointments Code of Practice on Ministerial public appointments to public bodies.
The appointments are subject to the appropriate clearance checks. The new tenure will last for three years, with immediate effect.
Biographies
Amanda Sater
Amanda Sater has served as an Inner London Youth Court Magistrate since 1995 and was a member of the Metropolitan Police Authority between 2010 and 2012. With extensive experience in marketing Amanda has also successfully run her own business supplying products for major corporations.
In the voluntary sector she has undertaken Trustee roles with Addaction and the North Kensington Opportunity Centre, and she is currently Vice Chairman of the Queen's Club, London.
Neil Rhodes
Neil joined Lincolnshire Police in 1986. He served as a superintendent, chief superintendent and acting Assistant Chief Constable with Humberside Police for four years and was promoted to Assistant Chief Constable with Cumbria Constabulary in late 2004. He returned to Lincolnshire as Deputy Chief Constable in 2008 and took the Temporary Chief Constable role in April 2012.
Nationally, he holds the performance and courts portfolios in the ACPO Criminal Justice Business Area and the crime information portfolio in the Performance Management Business Area, being the ACPO lead for the countrywide adoption of Crime Mapper.
He has a long-standing interest and background in criminal justice reform and in particular the rehabilitation of young prolific offenders.
Rob Butler
Rob Butler serves as a Magistrate in the adult and youth courts in West London. He was a member of the Independent Monitoring Board of Feltham YOI for four years until 2010, including two years as Vice Chairman.
Previously a news and current affairs reporter and presenter for ITN and the BBC he currently runs his own communications consultancy.
Seamus Oates
Seamus Oates is a recognised expert in the field of Alternative Provision and the education and support of challenging young people. He is an experienced executive headteacher, leading four alternative provision (AP) schools in London's Tri-Borough AP partnership. Ofsted has recently judged The Bridge AP Academy, now part of the Tri-Borough Alternative Provision, to be outstanding in all areas under his leadership.
Seamus is a member of the Tri-Borough Youth Offending Team management board and is a Designated National Leader of Education. He has also been appointed as co-chair of the DfE's Alternative Provision Reference Group.
Published 11 July 2013