Press release
New Appointments to the Zoos Expert Committee
New appointments to the Zoos Expert Committee including new chair.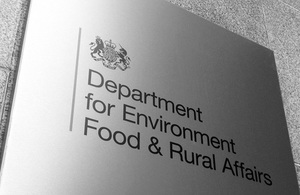 Anna Meredith has been appointed Chair of the Zoos Expert Committee and Deborah Bradfield, Sarah-Jane Brown and Cheryl Williams have been appointed as members of the Committee.
The Zoos Expert Committee provides UK Ministers with independent technical advice on zoo policy matters. Its key role is to provide advice and recommendations on measures to encourage the role of zoos in conservation, education and scientific research; and advise on the operation and implementation of the zoo licensing system in the UK.
The appointments begin on 1 November 2011. Anna Meredith, Cheryl Williams and Sarah-Jane Brown have been appointed to 2014 and Deborah Bradfield to 31 March 2013. Committee members are unpaid but can claim back reasonable travel expenses when attending meetings. None of the appointees have declared any political activity.
Notes:
Anna Meredith is Head of the Exotic Animal and Wildlife Service and Senior Lecturer at the Royal (Dick) School of Veterinary Studies, University of Edinburgh.
Deborah Bradfield and Sarah-Jane Brown, who work for local authorities, have been involved in zoo licensing for a number of years and will be bringing their experience of working with zoo legislation to the Committee.
Cheryl Williams is Chief Executive of Yorkshire Wildlife Park and will be bringing her expertise and experience of operating a small zoo.
More information about the Zoos Expert Committee can be seen on the Defra website: www.defra.gov.uk/wildlife-pets/zoos/.
Published 28 October 2011