News story
New Appointments to the Board of Consumer Council for Water
Defra appoints two new regional chairs to the Board of Consumer Council for Water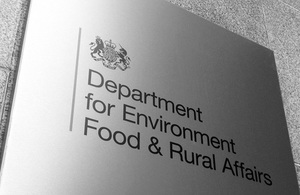 David Heath and Robert Light have been appointed to the Board of the Consumer Council for Water, taking up their roles from the 1st June 2015.
David Heath will lead the work of the Consumer Council for Water in the Western Region representing the interests of customers of South West Water, Sembcorp Bournemouth Water, Bristol Water, Cholderton and District Water and Wessex Water.
Robert Light will lead the work of the Consumer Council for Water in the Northern Region representing the interests of customers of United Utilities, Hartlepool Water, Northumbrian Water and Yorkshire Water.
David Heath has been a Member of Parliament for the constituency of Somerton and Frome since 1997 and is standing down at the 2015 general election. From 2010 until 2013, he served as the Deputy Leader of the House of Commons and as Minister for Farming and Food.
Robert Light has been a member of the Conservative Party since 1983 and a Conservative Councillor between 1987-95 and since 2000. He is currently Kirklees Council Conservative Group Leader and has stood as a General Election Candidate in 1992, 1997 and 2005.
A leading member of the Local Government Association for a number of years, Robert was Deputy Chair between 2010-14. He also served on the Board of the Audit Commission from 2011-2015 and Robert has been Chair of the West Yorkshire Fire & Rescue service.
The Consumer Council for Water is the voice of water and sewerage customers in England and Wales. It represents the views of customers to Government, the regulators and water companies. It also handles complaints about water companies where customers are not satisfied with a company's performance.
The appointments have been made in accordance with the Code of Practice issued by the Commissioner for Public Appointments. All appointments are made on merit and political activity plays no part in the selection process. The Code requires for appointees political activity (if significant) to be declared.
Published 20 March 2015