News story
New appointments to Technology Strategy Board
The newly-appointed board members are Colin Paynter, Ian Shott, Robert Sorrell and Mike Carr. They will serve until 30 June 2014. Secretary…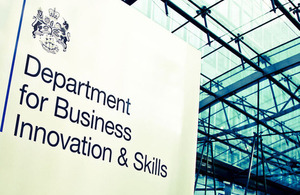 The newly-appointed board members are Colin Paynter, Ian Shott, Robert Sorrell and Mike Carr. They will serve until 30 June 2014.
Secretary of State for Business Vince Cable, said:
"We are investing more than £1 billion in business led research and development through the Technology Strategy Board.
"These appointments provide an extremely strong mix of business talent, insight and experience. The new members will play an important role in ensuring that the Technology Strategy Board helps to drive economic growth by stimulating and supporting business-led technology innovation."
The Chair of the Technology Strategy Board, Graham Spittle, said:
"I am glad to welcome the four new members and thank them for giving up their time to support the important work of the Technology Strategy Board. I would also like to offer my sincere thanks to the outgoing members for their long and valuable service.
"Our board members have broad business backgrounds and it is good from time to time to refresh this significant collective strength with new members with different experiences. The Technology Strategy Board, as the UK's innovation agency, is an important body that seeks to make significant impacts on future UK business success and ensure that innovation is at the heart of our economic recovery.
"It is essential that high profile individuals with experience of the key business sectors in which we are seeking to make an impact play a central role in the work that we do."
Notes to Editors
The Technology Strategy Board is a business-led government body, which works to create economic growth by ensuring the UK is a global leader in innovation. Sponsored by the Department for Business, Innovation and Skills (BIS), the Technology Strategy Board brings together business, research and the public sector, supporting and accelerating the development of innovative products and services to meet market needs, tackle major societal challenges and help build the future economy. For more information please visit, www.innovateuk.org.

These appointments have been made in accordance with the requirements of the Code of the Commissioner for Public Appointments. All appointments are made on merit and political activity plays no part in the selection process. None of the appointees have declared any political activity in the last five years.

Board members of the Technology Strategy Board receive remuneration of £9,180 per year.

Under the Code of the Commissioner for Public Appointments, two previous board members Nick Buckland and Joseph Feczko were required to step down on 30 June 2011. The Technology Strategy Board had two other vacancies, allowing four appointments to be made.

Colin Paynter is the Chief Executive Officer of Astrium Limited, with activities covering satellites, space transportation, and space services. In addition to his UK duties, Colin has worldwide responsibility for Strategy and Business Development for Astrium covering Mergers and Acquisitions, Business Development and Strategy.
Colin's first position was a Control Systems Engineer with CAP Group. He then joined BAE SEMA and became Director of its Tactical Communications Systems Division. Colin then joined BAE Systems as Managing Director of Communications and Infrastructure Division. He was appointed as CEO of Astrium Ltd in 2002. He was appointed to the Board of Cassidian Ltd in 2007 and Surrey Satellite Technology Ltd in 2010. Colin's previous public appointments include Governing Board membership of two UK Research councils and he is now a board member of the Space Leadership Council.
Ian Shott is the Managing Director of Shott Consulting Limited where he provides strategic and transactional advice to CEOs and Chairmen of listed and unlisted companies. He was the founder and CEO of Excelsyn, a high growth Pharmaceutical Development and Manufacturing business, which he sold to US multinational AMRI in February 2010. Ian has held senior executive positions in the International Pharmaceutical and Biotechnology Industry for over twenty years. He was latterly President of RhodiaChirex's Manufacturing Division having previously held executive board posts at Chirex, Lonza, and Astra Zeneca.
Ian was appointed a fellow of the Royal Academy of Engineering in July 2008 and was the Technical Vice President and then President of the Institution of Chemical Engineers between 2004 and 2009. He chairs the Board of GAP Technologies Limited. At Newcastle University he is a visiting professor, a member of Council and chair of the Industrial Advisory Board for the schools of CEAM and Chemistry. He is a member of the Advisory Boards for Chemical Engineering at Imperial College and Engineering Sciences at Oxford University.
He chaired the UK's Innovation Growth Team for Industrial Biotechnology in October 2007, subsequently joining the government's Ministerial Advisory Group for Manufacturing Strategy in early 2008. In late 2009 he launched the Leadership Forum for Industrial Biotechnology, which he chairs, with the support of the BIS Minister of State for Business.
Ian was awarded a CBE in the Queen's Birthday Honours of 2009 and an Honorary Doctorate by Nottingham University in 2010.
Robert Sorrell is BP's Vice President for Public Partnerships. He is responsible for managing BP's European interests in public private technology partnerships as well as acting as BP's technology policy advisor.
Prior to this, in 2006 Robert was appointed as BP's Vice President for Refining & Marketing Technology Strategy. In this role Robert was responsible for developing BP's long term technology strategy across its global fuels, lubricants, refining and chemicals businesses. Robert also managed BP's global hydrogen transport business with operational responsibility for a global network of refuelling sites.
Robert joined BP in 1987 and during his early career held a number of research, business and market development roles. In 2001 Robert became Marketing Director for Europe and Asia and in 2003 Robert took over as Technology Strategy Manager for Refining & Marketing. In 2005 Robert was appointed Technology Vice President for Business Marketing. He was responsible for co-ordinating technology activities across BP's air, marine, industrial lubricants and bitumen businesses.
Robert oversees BP's interests in the UK Energy Technology Institute and chairs the UK Technology Strategy Board's Energy Generation and Supply Steering Group. He is on the Board of Breathing Buildings, a natural ventilation company, as a non-executive Director.
Until November 2008 Mike Carr was British Telecom's Chief Science Officer, and responsible for the companies world-leading Research Labs and Commercial Exploitation business, including Patent Licensing and Corporate Venturing activities globally.
Mike joined BT as a Technician 1972 and joined the Visual Communication Research Division at BT Labs in 1980. During his first 15 years with BT's Labs his career focused on the research, development and practical design of real-time audio/visual and multimedia communications systems. He has several patents to his name in the field of video compression, and is the holder of two prestigious BT awards; the Martlesham Medal for R&D (1992) and the BT Gold medal (1994) for leading multimedia product developments. In 1998 he was elected President of the Digital Audio-Visual Council (DAVIC) a non-profit association based in Switzerland and representing over 200 companies in more than 25 countries, focused on developing specifications to maximize inter-operability of audiovisual systems
In 1999 Mike established and headed BT's Technology office and Corporate Venturing activity in California. He returned to the UK in 2001 to lead BT's Research & Venturing business with labs in the UK, Malaysia, Middle East and China. He led BT's "spin-out" activity which created 14 new start-up companies.
Mike is a Fellow of the Royal Academy of Engineering and a Chartered Engineer. He was awarded an Honorary Doctorate of Technology from the University of Plymouth in September 2009. He is a Non Executive Director of Ordnance Survey and a VP and Trustee of the Institute of Engineering & Technology.
BIS's online newsroom contains the latest press notices, speeches, as well as video and images for download. It also features an up to date list of BIS press office contacts. See [http://www.bis.gov.uk/newsroom](http://www.bis.gov.uk/newsroom) for more information.
Notes to Editors
Contact Information
Name BIS Press Office Job Title
Division COI Phone
Fax
Mobile
Email NDS.BIS@coi.gsi.gov.uk
Name Dan Palmer Job Title
Division Department for Business, Innovation and Skills Phone 020 7215 5303 Fax
Mobile
Published 17 October 2011