News story
New appointees to UK Atomic Energy Authority
The Secretary of State appointed Keith Burnett, Stephen McQuillan and Peter Jones as Non-Executive members of the Authority's board for a 3 …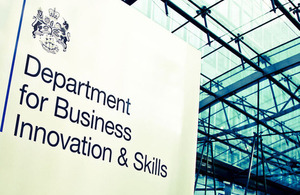 The Secretary of State appointed Keith Burnett, Stephen McQuillan and Peter Jones as Non-Executive members of the Authority's board for a 3 year period commencing on 1 November 2010 and expiring on 31 October 2013.
Martin Cox, who is currently the Chief Operating Officer of the Authority, has also been appointed to the board for 3 years to ensure a better balance of executive membership on the board.
Business Secretary Vince Cable said:
"The work carried out by the UK Atomic Energy Authority is precisely the sort of high performing research that is vital for us to encourage economic growth.
"That's why I'm pleased that we have managed to attract such capable and experienced members to the Board to drive this work forward. Not only am I sure they will they bring their significant scientific expertise to the panel, but also their financial and commercialisation skills to bring new discoveries to market."
Notes to editors:
All applicants were appointed in line with the OCPA Code.
Brief biographies of the appointees are below; 1. Keith Burnett became Vice-Chancellor of the University of Sheffield in 2007. Previously he was Head of the Division of Mathematical, Physical and Life Sciences at the University of Oxford, having been a professor of Physics there for almost twenty years. 2. Stephen McQuillan is currently the CEO of a listed UK Engineering group - Avingtrans plc. His previous position was as Director/CEO of the National Physical Laboratory (working for Serco). Prior to joining NPL, Stephen ran a division of Oxford Instruments. 3. Peter Jones became a non-executive director of the National Nuclear Laboratory and Chairman of its Audit Committee in August 2009. Peter is also a qualified Chartered Accountant and has had exposure to a wide range of financial management and planning issues in a wide range of sectors varying from financial services to electricity production. 4. Martin Cox is a theoretical physicist who joined Culham upon graduating, working on plasma modelling. From 2000, when the Authority assumed responsibility for the operation of JET on behalf of the European fusion community, he became manager of Machine Operations Department, overseeing the operation of most of the JET facilities as well as MAST. In 2007 he was appointed Senior Manager for all aspects of JET operation and in 2008 was appointed Assistant Director (Operations). He was appointed Operations Director on 1 November 2009.
As an executive member of the Board and UKAEA's Chief Operating Officer, Martin Cox will continue to receive a salary of £114,119 pa.
The Non-Executive Directors' salary will be £15,000 pa. This represents a £10,000 reduction from the previous salary for Non-Executive Directors.
BIS' online newsroom contains the latest press notices, speeches, as well as video and images for download. It also features an up to date list of BIS press office contacts. See http://www.bis.gov.uk/newsroom for more information.
Notes to Editors
Contact Information
Name BIS Press Office Job Title
Division COI Phone
Fax
Mobile
Email NDS.BIS@coi.gsi.gov.uk
Name Josh Coe Job Title
Division Department for Business, Innovation and Skills Phone 020 7215 5943 Fax
Mobile
Email Josh.Coe@bis.gsi.gov.uk
Published 1 November 2010