New advisory panel to appoint 'transition trustees' for new waterways charity
Andrew Hind CB has been appointed as Chair of the new independent Advisory Panel on First Appointments and Transition.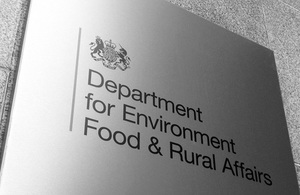 An independent Advisory Panel has been set up to provide advice to the Government as British Waterways makes the transition from public corporation to charitable body in England and Wales. The transition is to be completed by April 2012. 
Andrew Hind CB has been appointed as Chair of the new independent Advisory Panel on First Appointments and Transition. Dinah Nichols, Roger Clarke and Robin Ritzema have been appointed as members. 
The panel will advise the Secretary of State for the Environment on the appointment of 'Transition Trustees' to represent the interests of the new charity and, in the future, sit on its Board of Trustees once it has been set up.  All appointments will be made  on merit and political activity will play no part in the selection process. 
Notes 
On 14 October the Government announced that it would be moving British Waterways in England and Wales from being a public corporation to a new charity - similar to a new 'national trust' for the waterways.
Members of the Advisory Panel will receive a per diem rate and will be compensated for reasonable travel and subsistence costs incurred in the course of undertaking their role.
The panel met for the first time on 21 December and will remain in place until the new charity's Board of Trustees has set up its own appointments procedures.
Although the new Transitional Trustees will not be public appointments the appointments process itself will be transparent and rigorous and in line with OCPA best practice.   
Biographical details
Roger Clarke is Chair of Think Global which promotes learning for a just and sustainable world. He also holds positions as the Chair of the Civil Society Advisory Board at Defra, Board member of the Peak District National Park Authority, the Woodland Trust, British Trust for Conservation Volunteers and is a member of the Expert Panel at the Heritage Lottery Fund.
Andrew Hind CB stepped down as Chief Executive of the Charity Commission in August 2010 after six years' service. His previous positions include Chief Operating Officer of the BBC World Service, Deputy Chief Executive at ActionAid and Director of Finance and Corporate Services at Barnado's. 
Dinah Nichols CB is a former Director-General for Environment in DETR and Defra, where she was the sponsor for British Waterways. She is currently Chair of the National Forest Company, a non-executive Director of Pennon Group plc and a Trustee of the Land Trust and Keep Britain Tidy. She sits on the Policy Advisory Committee of the Campaign to Protect Rural England. 
Robin Ritzema is a an independent consultant and an accredited independent public appointments assessor. Formerly a senior civil servant in the Department of Education, Cabinet Office and elsewhere, he has extensive experience in the fields of education and science policy and management, in the UK and overseas.
Published 26 January 2011