Press release
New A590 roundabout opens at Greenodd
The new £2.7 million roundabout along the A590 at Greenodd in Cumbria has been completed and is now open to drivers.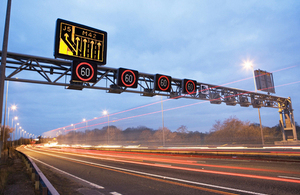 The roundabout, which received widespread support from residents and businesses, will help reduce accidents on the busy A590.
It has been constructed at the junction with the A5092 local road as part of the Government's £317 million national pinch point initiative, and is the first project from the pinch point programme to be completed in the North West.
Work to construct the roundabout, which replaces a T-junction, has involved a range of challenges – including fixing rock netting to ensure the safety of workers and drivers during the work, and rehoming dozens of protected slow worms and two palmate newts to a nearby wooded area before starting the work.
The pinch point initiative is a two year programme of targeted work devised with the input of councils and local enterprise partnerships to help stimulate new development and local economic growth by improving road safety and tackling congestion bottle necks. In all, 28 projects, worth £66 million, are being delivered across the North West by March 2015.
Samantha Whittaker, Project Manager for the Highways Agency, said:
The previous junction layout could be daunting for motorists as they had to pull into a gap in the central reservation. The new roundabout will improve safety and make it easier to travel between the A590 and A5092.

We have worked hard to keep residents and motorists informed and, while there has been some inevitable disruption, we have now completed the roundabout. We thank road users, residents and local businesses for their patience during the work.
Some minor landscaping will be taking place this spring but traffic management for the project was lifted over the weekend and the roundabout is now fully operational.
General enquiries
Members of the public should contact the Highways Agency Information Line on 0300 123 5000
Media enquiries
Journalists should contact the Highways Agency press office on 0844 693 1448 and use the menu to speak to the most appropriate press officer
Published 24 February 2014