News story
New £550m capital investment programme will transform FE colleges
The new FE Capital Investment Strategy details the creation of a £550 million investment programme targeted at colleges in the greatest need…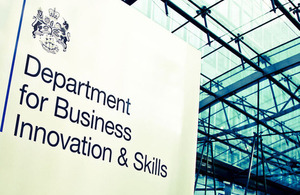 The new FE Capital Investment Strategy details the creation of a £550 million investment programme targeted at colleges in the greatest need of help and those that can support growth in the economy.
As a result of decades of underinvestment too many learners are in poor facilities which are expensive to maintain, impacting on the quality of learning. Improving the skills of the nation's workforce is central to this Government's industrial strategy.
The FE Capital Investment Strategy sets out the clear rationale for the investment:
800,000 learners in England are currently learning in sub-standard buildings
Every £1 million of capital expenditure increases participation by between approximately 62 and 86 learners per year
A £5 million college refurbishment project could typically employ around 60 people and could increase to as much as 600 jobs for a £20 million college relocation
Annual maintenance costs for the worst colleges are 34 per cent higher than the best.
Vince Cable made the announcement on a visit to Eastleigh College, Hampshire, which has just replaced temporary huts with seven new classrooms supported by Government funding. Photovoltaic solar cells on the roof of the new building will help reduce the building's impact on the environment and reduce the College's energy bills.
Business Secretary Vince Cable said:
"Our further education colleges are energetic and dynamic places producing the highly skilled and entrepreneurial people this country needs to create economic growth.
"However because of past under investment nearly a million learners in England have a substandard experience due to poor estates and facilities.
"The quality of facilities should match the aspiration of the sector. That's why over the next two years we are investing £550 million in transforming colleges across the country, providing thousands of students with the state-of-the-art facilities that will help them fulfil their potential."
Association of Colleges' chief executive, Martin Doel, said:
"These additional funds are most welcome, as Professor Alison Wolf noted in her recent review of vocational education, the provision of facilities and specialist equipment is a key factor in delivering high quality courses and occupational training.
"This investment will allow colleges to continue to update their estates helping them to deliver continuing high standards to their students, communities and industry partners."
The strategy includes a number of case studies to help demonstrate the types of projects which could be supported.
These include:
Preston College who operated across two sites and were able to consolidate to one by investing in a new building. This increased their commercial income by 40 per cent and achieved £300,000 in running cost and efficiency savings.
Northbrook College who received a £1million Government grant towards a £5.1 million project to improve old buildings that were difficult to heat and prone to leaking. This resulted in significant energy savings with a 50 per cent reduction in the first month.
The facilities for Hartpury College's Home Farm Campus were predominantly in temporary buildings. The College received a £1million Government grant for a £3.8 million project to construct the Malcolm Wharton Centre. The new facilities have improved operational efficiency with savings of £80,000 a year.
On the same day the Adult FE and Skills Funding Statement has been published which details the overall budget available for skills for the next two years and the number of learners Government anticipates this will support.
Next year's budget has been set at 2.8 per cent above last year's which will give stability to colleges and providers.
**Notes to Editors
**1. The FE Capital Investment Strategy can be found at: http://www.bis.gov.uk/assets/biscore/further-education-skills/docs/F/12-1340-further-education-college-capital-investment-strategy-plan
An evaluation of the impact of capital expenditure on FE college outcomes, used to inform the FE College Capital Investment Strategy is being published on the same day as the announcement of the Strategy. The evaluation can be found at: [http://www.bis.gov.uk/assets/biscore/further-education-skills/docs/e/12-1315-evaluation-capital-expenditure-in-further-education-colleges.pdf](http://www.bis.gov.uk/assets/biscore/further-education-skills/docs/e/12-1315-evaluation-capital-expenditure-in-further-education-colleges.pdf)

The Adult FE and Skills Funding can be found from 2pm at: http://www.bis.gov.uk/assets/biscore/further-education-skills/docs/s/12-p172-skills-funding-statement-2012-2015

Colleges can apply for the new capital funding through the Skills Funding Agency.

Since May 2010 the Government has made more than £330 million available enabling more than £1 billion college projects.

Last month the Government announced the funding outcomes of the third phase of the Enhanced Renewal Grant (ERG3) which is investing £110 million, through the Skills Funding Agency. This will be more than matched with £302 million investment from colleges.

The Government's economic policy objective is to achieve 'strong, sustainable and balanced growth that is more evenly shared across the country and between industries'. It set four ambitions in the 'Plan for Growth' (PDF 1.7MB), published at Budget 2011:
To create the most competitive tax system in the G20

To make the UK the best place in Europe to start, finance and grow a business

To encourage investment and exports as a route to a more balanced economy

To create a more educated workforce that is the most flexible in Europe.
Work is underway across Government to achieve these ambitions, including progress on more than 250 measures as part of the Growth Review. Developing an Industrial Strategy gives new impetus to this work by providing businesses, investors and the public with more clarity about the long-term direction in which the Government wants the economy to travel.
BIS's online newsroom contains the latest press notices and speeches, as well as video and images for download. It also features an up to date list of BIS press office contacts. See [http://www.bis.gov.uk/newsroom](http://www.bis.gov.uk/newsroom) for more information.
Notes to Editors
Contact Information
Name BIS Press Office Job Title
Division Department for Business, Innovation & Skills Phone
Fax
Mobile
Email bispress.releases@bis.gsi.gov.uk
Name Ashley Rogers. Job Title
Division Department for Business, Innovation and Skills Phone 020 7215 5971 Fax
Mobile
Published 6 December 2012