Press release
New £40 million investment by British Business Bank to support £450 million of lending to smaller businesses
The British Business Bank programme confirms that it is making a new £40 million investment through peer-to-peer lender Funding Circle.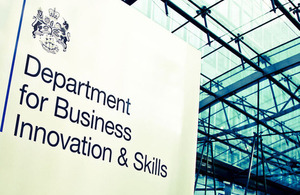 £85 million of current Investment Programme commitments will support £575 million of lending capacity
£87 million predecessor scheme has already supported £197 million of lending
the 10 commitments to date across the combined Investment Programmes will support over £800 million of lending
The British Business Bank programme confirmed today (25 February 2014) that it is making a new £40 million investment to support further lending to smaller businesses through peer-to-peer lender Funding Circle. This investment will start on 1 March 2014 and is expected to support around £450 million of lending over the next 18 months.
This builds on an earlier investment of £20 million in Funding Circle in December 2012 through the Business Finance Partnership (BFP), a scheme which led to the current Business Bank Investment Programme. That funding has resulted in £130 million being lent to small and medium-sized enterprises (SMEs) through Funding Circle, including:
Bramley & Gage, a manufacturer of gin and fruit liqueurs, borrowed £25,000 from 248 people in the UK including the government, to purchase a new gin still to increase production
Moo Free Chocolate, a manufacturer of dairy free and gluten free chocolate, borrowed £60,000 to purchase machinery and ingredients to increase production
Kaizen, a luxury furniture manufacturer, borrowed £100,000 to expand and fuel growth
Business Secretary Vince Cable said:
The Business Bank is helping to support serious volumes of lending to small and medium sized businesses through new finance providers. Too much business lending is concentrated in the big banks and, if we're to have a properly functioning business lending market, they need to be challenged by new banks, peer-to-peer lenders and other alternative providers.
Peter Wilson, Managing Director of the British Business Bank's Investment Programme said:
The pace is really starting to build in terms of the momentum of our commitments and the impact that our Investment Programmes are making. The pipeline of future commitments is strong and we are seeing continuing interest through new applications to the programme.
To date, total commitments made under the current Investment Programme stand at £85 million, which together will help to support over £550 million of new lending capacity for smaller businesses. The £87 million allocated under the Business Finance Partnership forerunner of the Investment Programme has already supported almost £200 million of lending to smaller businesses. A total of 10 alternative lenders have so far been supported through these schemes.
Notes to editors:
1.Under the terms of the Funding Circle agreement, £35 million of the British Business Bank investment will be used to fund 10% of the value of each loan that meets Funding Circle's risk assessment process and successfully raises the other 90% of the loan from private sector investors. The British Business Bank element will reduce to 5% of each loan, after the first £35 million has been invested.
2.Launched in April 2013, the latest £300 million Investment Programme is being kept open for new applications until 31 May 2014, as a result of the strong ongoing interest over the last few months. The programme is designed to promote diversity of lending supply through supporting a variety of potential finance providers. It has the flexibility to make a broad range of debt and equity investments, including in:
challenger banks
debt funds
supply chain finance and invoice discounting
asset-backed lenders and leasing
peer-to-peer lenders and other platforms.
3.Today's (25 February 2014) announcement follows the 2 initial Investment Programme commitments announced in November 2013, involving:
£30 million to Praesidian Capital Europe to support a new subordinated debt fund of approximately £96 million at first close
£15 million to BMS Finance to support a new fund of £30 million at first close to support UK businesses with high growth potential and nearing profitability
lending under these commitments will commence following legal completion, which is currently in progress
4.The British Business Bank will support economic growth by bringing together public and private sector funds to create more effective and efficient finance markets for smaller and medium-sized UK businesses. It is a key element of the government's Industrial Strategy, and its programme is already contributing to making the UK the best place in Europe to start, grow and finance a business.
5.The British Business Bank programme is currently run directly by the Department for Business, Innovation and Skills and is not authorised or regulated by the Financial Conduct Authority or the Prudential Regulation Authority. British Business Bank plc will operate as a government-owned financial institution once HM Government has received European Commission state aid clearance, which is expected in 2014.
6.The British Business Bank Programme recently published a brief update on its performance and recent developments, which included:
£660 million of total lending and investment supported in 2013, was up 73% versus 2012; of this, £218 million was supported in the final quarter of 2013
37% of the total lending and investment supported in 2013 went to business in: manufacturing; information and communication; and, professional, technical and scientific activities
£89.3 million of lending was supported through the Business Finance Partnership (BFP) in the final quarter of 2013, which was £8 million more than the combined total for BFP lending in the second and third quarters of 2013
there have been over 100 Investment Programme applications received since it was launched in April 2013, including 29 in January 2014
view or download the British Business Bank's brief update on the programme's performance
About Funding Circle
7.Funding Circle is an online marketplace for business loans, enabling investors to directly lend to small businesses. Businesses borrow between £5,000 and £1 million, while investors receive an average net return of 5.7% on their money. Since launching in August 2010 Funding Circle has helped businesses borrow more than £220 million. Investors include thousands of individuals, the British Business Bank, local councils and Huddersfield University.
8.Under the British Business Bank's Business Finance Partnership, £20 million was invested to support lending to smaller businesses via the Funding Circle platform. This investment has helped to support almost 2,000 businesses in securing approximately £140 million of finance over the last year.
9.The government's economic policy objective is to achieve 'strong, sustainable and balanced growth that is more evenly shared across the country and between industries'. It set 4 ambitions in the 'Plan for Growth', published at Budget 2011:
to create the most competitive tax system in the G20
to make the UK the best place in Europe to start, finance and grow a business
to encourage investment and exports as a route to a more balanced economy
to create a more educated workforce that is the most flexible in Europe
Work is underway across government to achieve these ambitions, including progress on more than 250 measures as part of the Growth Review. Developing an Industrial Strategy gives new impetus to this work by providing businesses, investors and the public with more clarity about the long-term direction in which the government wants the economy to travel.
Published 25 February 2014