News story
New £2.9 million enterprise research centre will drive SME policy
The Enterprise Research Centre will help develop a greater understanding of the factors affecting business investment, performance and growth…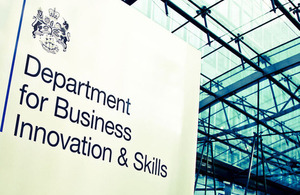 The Enterprise Research Centre will help develop a greater understanding of the factors affecting business investment, performance and growth.
It is a joint collaboration between the Department for Business, Innovation and Skills (BIS), the British Bankers Association (BBA), the Economic and Social Research Council (ESRC) and the Technology Strategy Board.
Business and Enterprise Minister Mark Prisk, said:
"The Government is committed to boosting enterprise and giving entrepreneurs the right environment to be successful and grow. We are creating a network of thousands of business mentors and providing quality coaching to a range of high growth potential businesses. We are also launching a £10 million startup loan scheme to provide young people with a range of business support and access to a small amount of capital to start their business.
"Research is vital to ensure that Government makes evidence based decisions about how to develop these schemes and improve the business environment in the UK. By collaborating with partners and bringing together leading academics we will be able formulate long term policy that will help to stimulate economic growth in the UK."
The call for proposals to form the centre opens today, and will close on 4 September 2012. Applications are welcomed from academic institutions across the UK with relevant expertise. It is expected that the successful bidder will be announced in the autumn.
Angela Knight, chief executive of the British Bankers' Association, said:
"Information is key to delivering investment and for targeting help and support where it is needed most. The British Bankers' Association and major UK banks are delighted to support the Enterprise Research Centre, an initiative which will see research focusing on small and medium sized enterprises.
"We believe the insight we gain will help inform policy, provide a focal point for research, bring key knowledge together in one place and help banks better serve their businesses customers. We also hope the research will help policy makers, business organisations and investors to work together to further develop initiatives that support enterprise and the UK growth agenda."
Professor Paul Boyle, Chief Executive of the ESRC, said:
"Supporting economic performance and sustainable growth, and developing collaborative partnerships with business and policy are key priorities for the ESRC. I am pleased to be working with the British Bankers Association, the Technology Strategy Board and the Department for Business, Innovation and Skills to develop this new Enterprise Research Centre. Our complementary knowledge and experience make us ideal partners in this investment and by working together we will generate research which will directly benefit business and inform policy development."
Iain Gray, Chief Executive of the UK's innovation agency the Technology Strategy Board, said:
"It's essential that we gain a better understanding of the way innovative SMEs in the UK access finance. We can use this knowledge to flex and develop our programmes so that they are even more tightly aligned to business needs"
"The Technology Strategy Board already provides a range of programmes and tools to help business develop and commercialise their products and this new centre will help us to build on the support we provide."
Any expressions of interest can be made by visiting www.esrc.ac.uk/Enterprise.
**Notes to editors:
**1. The Economic and Social Research Council (ESRC) is the UK's largest organisation for funding research on economic and social issues. It supports independent, high quality research which has an impact on business, the public sector and the third sector. The ESRC's total budget for 2011/12 is £203 million. At any one time the ESRC supports over 4,000 researchers and postgraduate students in academic institutions and independent research institutes. More at www.esrc.ac.uk
The Technology Strategy Board is a business-led government body which works to create economic growth by ensuring that the UK is a global leader in innovation. Sponsored by the Department for Business, Innovation and Skills (BIS), the Technology Strategy Board brings together business, research and the public sector, supporting and accelerating the development of innovative products and services to meet market needs, tackle major societal challenges and help build the future economy. For more information please visit: Technology Strategy Board website

The British Bankers' Association is the leading trade association for the UK banking and financial services sector. It speaks for over 200 banking members which have operations in 180 countries worldwide. The major UK banks supporting the Enterprise Research Centre are Royal Bank of Scotland PLC, HSBC Bank PLC, Barclays Bank PLC, Lloyds TSB Bank PLC and Bank of Scotland PLC.

BIS's online newsroom contains the latest press notices, speeches, as well as video and images for download. It also features an up to date list of BIS press office contacts. See [http://www.bis.gov.uk/newsroom](http://www.bis.gov.uk/newsroom) for more information.
Notes to Editors
Contact Information
Name BIS Press Office Job Title
Division Department for Business, Innovation & Skills Phone
Fax
Mobile
Email bispress.releases@bis.gsi.gov.uk
Name Dan Palmer Job Title
Division Department for Business, Innovation and Skills Phone 020 7215 5303 Fax
Mobile
Published 22 May 2012