Press release
Neville-Rolfe: Students must understand the basics of intellectual property
Business Minister Baroness Neville-Rolfe set out her vision that students should have a basic understanding of intellectual property.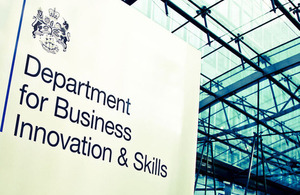 In a speech today (5 March 2015), Business Minister Baroness Neville-Rolfe set out her vision that students should have a basic understanding of intellectual property (IP) as a key part of building a successful, innovative future for the UK economy.
Baroness Neville-Rolfe said "every child should leave school with a basic understanding of IP principles" and that "IP must be an integrated part of learning from the earliest school years through primary, secondary and higher education".
The minister was speaking at the winners' ceremony for the Intellectual Property Office's (IPO) StudentshIP Enterprise Awards. She announced the 10 university student projects that will share £450,000 for their plans to improve understanding and exploitation of IP through student-business partnerships.
The winners included:
Aston University's Patent, IP and Entrepreneurship Club that will run simulation companies for students to see how their decisions may turn out in the real world to help hone their commercial skills
City University London's the Start-Ed Student Accelerator project that will be placing students with technology start-ups. The students, supervised by qualified lawyers, will learn commercial skills and support the new company in developing its approach to IP
Lancaster University's IP game that will help student learning
Baroness Neville-Rolfe also launched 'IP Tutor', a new online learning tool designed to increase the level of IP knowledge amongst lecturers and students in higher education.
The tool will support the use and understanding of IP in student enterprise activities at universities.
Minister for Intellectual Property, Baroness Neville-Rolfe DBE said:
Our economy is increasingly knowledge based, as we now invest more in ideas and knowledge than in buildings or machinery. Having an early working knowledge of intellectual property is crucial and we must foster the entrepreneurial capability of the next generation, to secure the UK's continued global competitiveness.

The StudentshIP Enterprise Awards and the new 'IP Tutor' online tool will teach students how to best apply IP skills within their chosen field and successfully protect the benefits of their ideas and inventions.
Notes to Editors
1.'IP Tutor' is an interactive, online learning tool developed by the UK IPO in conjunction with representatives from higher and further education, industry and legal sectors to increase student awareness of IP.
Its aims are to:
provide a tool for students and lecturers to use which will improve their awareness and understanding of IP
provide a benchmark for IP knowledge amongst the student and lecturing community
increase the number of graduates entering industry with IP knowledge
encourage students to think about IP created during the course of their studies
2.In 2012, a National Union of Students study, co-funded by the UK IPO, found that although 80% of students felt that knowledge of IP was important to their education and future career, only 40% thought their current awareness of IP was enough to support them in their future career. Students who were surveyed indicated that they wanted better access to information on IP but were not clear on how to obtain this information.
3.The StudentshIP Enterprise Awards encourage the practical application of intellectual property (IP) skills by higher education (HE) students working in collaboration with higher education institutions (HEIs) and/or businesses.
The main purpose of the competition is to recognise and reward student-centric projects that:
support the use and understanding of IP in student enterprise activities
increase the number of IP savvy graduates leaving HE
£437,847 was awarded to the student-centric projects in this year's competition.
The Intellectual Property Office is committed to ensuring that the next generation of young people have the skills they need to succeed in the global race.
4.For more information about the competition, please visit the Intellectual Property Office website or contact Matthew Larreta at the Intellectual Property Office on 01633 813814.
5.The Intellectual Property Office (IPO) is within the Department for Business, Innovation and Skills (BIS) and is responsible for the national framework of intellectual property rights, comprising patents, designs, trade marks and copyright.
6.The IPO's role is to help manage an intellectual property system that:
encourages innovation and creativity
balances the needs of consumers and users
promotes strong and competitive markets and is the foundation of the knowledge-based economy
7.The IPO operates in a national and an international environment and its work is governed by national and international law, including various international treaties relating to intellectual property to which the United Kingdom is a party.
Published 5 March 2015
Last updated 5 March 2015
+ show all updates
Added cases studies of winners.
First published.