World news story
Neglected Tropical Diseases Summit 2017, UK Pledge
UK statement delivered by Lord Bates, Minister of State at DFID, on 19 April 2017 at the World Health Organization.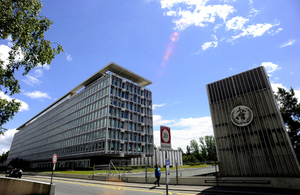 I'm pleased to speak at the beginning of this critical session.
This is the moment of truth.
We cannot underplay just how destructive, how debilitating these diseases are – the misery and the pain they inflict.
Often striking in childhood – NTDs can leave a permanent legacy of blindness, stunting, anaemia, fever.
But the success we've had tackling NTDs these last few years has shown what is possible when you bring together political commitment, leading scientific minds and the power of business.
It is now time to finish the job – it is time to end the misery by making substantial commitments today.
Global Britain is helping to lead the fight against NTDs. Since 2009 we have delivered almost 450million treatments. We will do more.
Today I'm committing an additional £205million on programmes to tackle NTDs over the next 5 years. This is further to £55m of planned spending over the next two years, following from the UK's 2012 commitment to NTDs, and implementation funding of £100m from the Ross Fund. In total, the UK will invest £360m in implementing programmes over the next five years. This will more than double our current average annual investment in tackling NTDs.
Over the next five years our support will supply up to a billion treatments to people at risk in the developing world…protecting over 200 million people from pain, disability, disfigurement and death. Through this support we will prevent up to 400,000 cases of blindness caused by Trachoma.
Our support will help to ensure that Guinea Worm becomes only the second human disease ever to be eradicated. And we will help to eliminate Visceral Leishmaniasis in Asia.
We are also investing significantly in ground-breaking research and technologies. Today, I am happy to confirm allocations from the research element of the Ross Fund of: £48m to the Drugs for Neglected Diseases Initiative; £30m to the Foundation for Innovative New Diagnosticsm; and £10m to the Coalition for Operational Research on Neglected Tropical Diseases. These programmes will help support the development of new drugs and diagnostics to control and eliminate NTDs, and provide evidence to improve the delivery of NTD programmes.
Global Britain is once again keeping our promises to the world's poorest people. We will not stand by where there is suffering… UK Aid will continue to bring hope to the bleakest places and most excluded people.
But, clearly, others must step up too - including the countries most affected.
Today we have a chance to do something incredible, an opportunity to save and change countless lives now and in the future – we must grasp it.
Published 19 April 2017