Needs of female offenders better met
Lord McNally today visited the Hammersmith-based women's community centre,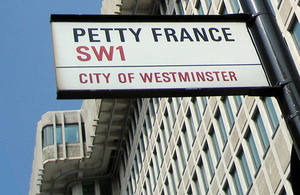 Much has been done to address the needs of female offenders since Baroness Corston led a review on women in the criminal justice system five years ago. New regimes in women's prisons have been introduced and there is now a strong commitment to fund women's community services and divert more women from custody.
The Minerva Centre, in common with a number of other diversionary projects around the country, addresses the underlying causes of women's offending such as drug and alcohol addiction, mental health issues and histories of both mental and physical abuse.
Commenting on his visit, Justice Minister Lord McNally said:
'I was delighted to have had the opportunity to visit the Minerva women's community service this morning. I have seen how this community-based approach can support women offenders and those at risk of offending by giving practical and emotional support across a range of issues.
'We are fully committed to addressing women's offending. We are working with the Department of Health to roll out diversion and liaison services in police custody and courts by 2014 for offenders with mental health problems. In addition, our continued work to reduce the number of women in prison has seen a significant reduction in short-sentence women prisoners, although I am aware that it is perhaps too soon to signal a long-term trend.'
Published 13 March 2012