News story
NDA to remove remainder of fuel from Dounreay
Closure of Dounreay site moved closer when the NDA announced that it will remove the rest of the nuclear fuel inherited from the UK Atomic Energy Authority.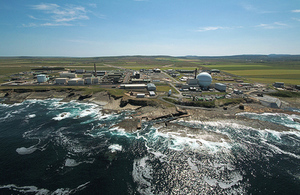 The decision means there will be no need to build new facilities at Dounreay to store the fuel after decommissioning of the redundant plant is complete in 2022-25. It will also significantly downgrade the security status of the site once complete.
The NDA inherited a variety of nuclear fuels and materials when it took over responsibility for the legacy of the UK's early atomic research, including approximately 100 tonnes at Dounreay.
It consulted on a strategy of 'co-location' of these materials at fewer sites and in summer 2011 announced its decision to remove approximately half of the inventory at Dounreay – the breeder from the Dounreay Fast Reactor.
The first of approximately 90 movements of this material from Dounreay to Sellafield by train took place in December 2012.
Now, following publication a year ago of options for the remainder of the stock at Dounreay, known as 'exotics', the NDA has announced these should also be transferred to Sellafield.
Transport arrangements have been identified in consultation with relevant authorities. The first moves are expected to commence around 2014/15 and continue for six years.
Alex Anderson, deputy project director for fuels and waste at Dounreay, said:
The NDA's decision will allow us to refine the site closure plan and the vision of what the site will look like in 2022-25 when decommissioning is complete.

We will now work with Sellafield Sites Ltd and the NDA's own transport companies to plan and implement this decision, obtain the necessary regulatory approvals and remove the last of the nuclear fuel from the site. The safety and security of this material will be paramount throughout.
Published 21 February 2013