News story
NDA sees savings in integrated waste approach
The NDA believes the cost of managing radioactive waste from its sites could be reduced by billions of pounds through a more strategic approach.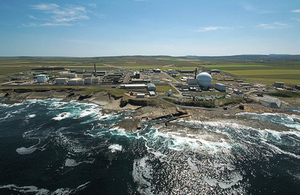 Its strategy development programme aims to deliver an integrated waste management approach to higher activity waste in particular that optimises waste handling across sites, including Dounreay, the NDA's biggest site closure project.
"Even before developing such detail, it is clear that optimised and integrated waste management is the right approach to take," says NDA in its programme report.
"If the programme aspirations are realised, the economic benefits, will be substantial and are likely to reduce the UK's nuclear liability by several billion pounds. This reduction in liability will be achieved if we secure a significant reduction in waste volumes, a more optimised approach to waste treatment and storage across the whole of the site and a risk-based approach to disposal."
Integrated waste management strategy development programme – Nuclear Decommissioning Authority
Published 14 May 2012