NDA holds open day for nuclear archive plans
Plans to build a £20 million nuclear archive in Caithness moved forward as the public was invited to view the plans at an open day in Wick on November 26.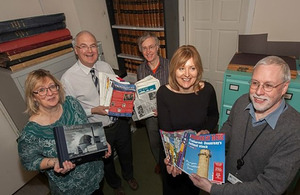 The public viewing was held at the Pulteney Centre in Wick.
The NDA project will see a new purpose-built archive facility constructed to provide long-term storage of records and other archive material from civil nuclear sites in the UK.
The archive will be operated on NDA's behalf by a specialist commercial partner and is expected to create more than 20 sustainable jobs.
As well as containing nuclear records from across Britain, the NDA is working in partnership with The Highland Council to ensure that the nuclear archive will also provide a new, publicly accessible home for Highland Council's North Highland Archive.
The new building will be constructed on land currently owned by Highland Council near the airport at Wick. Plans to archive Dounreay's historical documents also took a step forward as past issues of Dounreay News were donated to a regional archive.
The Caithness Archive Centre, part of High Life Highland, shares the same building as the library in Wick, and houses thousands of records relating to Caithness.
The material can be of interest to family historians, professional or amateur local historians, academics, schoolchildren, or anyone interested in any of the topics in which Caithness has made its mark.
These include farming, fishing, shipping, lighthouses, architecture, brewing, tourism, manufacturing, crafts such as glassmaking, and of course the nuclear fast reactor experiment at Dounreay.
A copy of the photograph album of royal visits to Dounreay, which was presented to Her Majesty The Queen in August 2011, and five boxes of old newsletters were donated to the archive by a delegation of DSRL and NDA staff.
Archivist Gordon Reid welcomed the addition of the historical Dounreay newsletters to the collection. He is pictured receiving a sample of the items with, from left, DSRL's Dounreay news editor Sue Thompson, heritage officer James Gunn, archivist Ian Pearson and NDA's stakeholder relations and socioeconomic manager, Anna MacConnell.
DSRL archive manager Ian Pearson said that it was a useful trial run which highlighted the amount of work necessary to remove items from DSRL for donation elsewhere.
Published 26 November 2014