News story
NDA examines health of supply chain
The NDA is carrying out a study to re-evaluate the decommissioning supply chain and establish whether any revisions to its strategy are needed.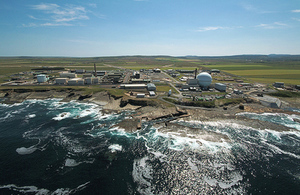 The NDA, which owns Dounreay and funds the clean-up work carried out on its behalf by DSRL, says a healthy and vibrant supply chain is critical to meeting its mission.
Last year, spending at the "tier 2 level" in the supply chain was £1.6 billion across the NDA estate.
In 2008, the NDA carried out a 'Health of the Supply Chain' consultation, with a questionnaire and series of workshops, to gain an insight into the issues facing suppliers and what improvements were needed.
The responses helped to shape the Principles for the NDA Supply Chain Development Strategy and led to a series of initiatives including the regular publishing and updating of SLC and NDA Procurement Plans.
To find out more, read Health of the Supply Chain Study at the NDA website.
Published 9 August 2012