NDA decommissioning supply chain event returns
The NDA estate's showcase event for suppliers is returning for a fourth year and is looking forward to welcoming even more visitors and exhibitors.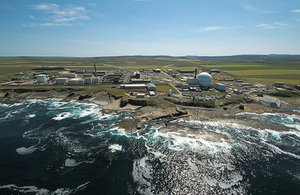 More than 1,000 delegates from across the country attended the 2013 event, including existing supply chain members and decommissioning newcomers.
This year, the NDA Estate Supply Chain Event 2014 will remain at EventCity in Manchester and takes place on Thursday, November 6. With additional support from partners from the public sector, the theme of the day will be Connect and Collaborate.
As with previous years, entry to the event will be free of charge to both visitors and exhibitors.
Baroness Verma, Parliamentary Under-Secretary of State for the Department of Energy & Climate Change, who returns as the keynote speaker, said:
I am really looking forward to returning to Manchester in November.

The National Supply Chain event is a key part of the NDA's SME programme.
Last year's event was excellent – it attracted in excess of 1,000 attendees and over 200 exhibitors from here in the UK and abroad.
Launched four years ago, the annual event is organised jointly by the NDA and its Site Licence Companies (SLCs) to promote greater visibility of contract opportunities for businesses seeking to work in the UK's decommissioning market and provide an informal networking forum, with Small and Medium Enterprises (SMEs) again being a key focus.
This year's event also features:
The Government Department UK Trade and Investment (UKTI), who will have an exhibition stand and will also bring a delegation of international nuclear decision-makers to discuss future collaborative opportunities with interested companies. Details are being finalised for a follow-up workshop
Rear Admiral Mike Wareham, MOD Defence Equipment and Support, Director of Submarines, as one of the guest speakers.
An Innovation Zone with a focus on research initiatives and emerging technologies.
NDA's Knowledge Management and Innovation teams – the Knowledge Management team will be hosting a series of presentations focused on collaboration.
More details will be provided as plans are finalised in the coming months.
Ron Gorham, the NDA's Head of Supply Chain Optimisation and SME Champion, said:
The feedback from the last event was extremely positive and we have taken account of the comments received.

The day is tailored to meet the aspirations of businesses at all levels of the supply chain, and encourage new suppliers to get involved.

We are very conscious that the supply chain is vital to our mission, and we wish to ensure it remains healthy and dynamic.
The Manchester event will feature a series of presentations by senior representatives from the Government, and the NDA, while exhibition space will be available for existing and potential suppliers at all levels of the supply chain with priority going to those suppliers who signed up to the Supply Chain Charter before July 14, 2014. The event will also include a presentation ceremony for the winners of the prestigious 2014 NDA Estate Supply Chain Awards. Entry for these awards, in a range of categories, is also open.
A key aim of the event is to improve access to opportunities for all the supply chain, and particularly for Small and Medium-sized Enterprises. This reflects the Government's aspiration for public organisations to provide wider access to their markets for smaller businesses and the NDA's own Strategy 2011-2014, which recognises the importance of a robust supply chain.
The NDA launched an Action Plan to support small businesses across the estate, following a Government requirement for all departments to develop proposals that will help to increase the proportion of public contracts awarded to the SME community.
The NDA's plan, which applies to SLCs as well as the NDA itself, sets a target of 20% of annual sub-contract spend (both direct and indirect) – at least £340 million – to SMEs by 2015, almost doubling the level reported from two years ago.
For more information on the Supply Chain Event, to register an interest in attending or submitting an entry for the awards: www.decommsupplyevent.co.uk
Published 24 July 2014