News story
NDA announces awards for supply chain
Supply chain business being invited to apply for new supply chain awards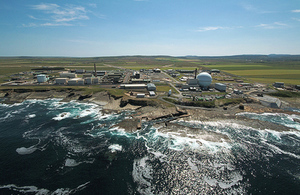 Businesses in the decommissioning supply chain are being invited to submit entries for a prestigious new award that recognises their contribution to the nuclear clean-up mission.
The award scheme is being piloted following a series of workshops with the Nuclear Decommissioning Authority, site licence companies, tier 2 suppliers and small and medium-sized enterprises.
The workshops were looking to identify areas for improvements, with the aim of reducing the barriers to entry and enhancing visibility of opportunities for suppliers, particularly smaller businesses.
One of the proposals arising was for an award that would acknowledge suppliers' contributions across the NDA Estate.
The NDA Estate Supply Chain Awards will be a prestigious recognition for a company working in its nuclear decommissioning and clean-up market.
The winners will be announced at the NDA Estate Supplier Event on November 22 in Bolton, giving an opportunity to showcase the winning companies in front of an audience of senior executives from the NDA, SLCs and the NDA estate supply chain community.
Three categories have been designed to recognise and reward excellence in the NDA Estate Supply Chain. The deadline for entries is October 22.
For more information and details about how to enter, see NDA Estate Supply Chain Awards 2012
Published 24 September 2012