Navy sub fires first Tomahawk missile
The first of the Royal Navy's new attack submarines, HMS Astute, has blasted Tomahawk missiles far across the North American skies as part of her first test firing mission.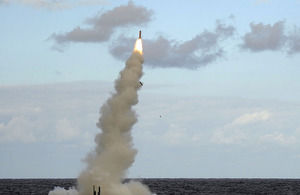 The 5.5-metre-long cruise missile weighs 1,300kg and has a range of more than 1,000 miles (1,600km). In the firing tests this month the Tomahawk weapons rocketed from HMS Astute at up to 550 miles per hour (885km/h) across the Gulf of Mexico.
HMS Astute's Commanding Officer, Commander Iain Breckenridge, said:
This first-of-class firing proves that Astute is a truly capable submarine. It means that the UK Submarine Service will be able to provide the UK's strike capability for many years to come.
HMS Astute is in the Gulf of Mexico for the first test run of her system. She has the largest weapon-carrying capacity of all the Royal Navy's attack submarines and can hold a combination of up to 38 Tomahawk missiles and Spearfish torpedoes.
See Related Links to watch video footage of the first launch of a Tomahawk missile from HMS Astute.
The UK is the only country supplied with the Tomahawk technology by the USA, and has been in operation since 1999. Missiles have been launched from various submarines to support operations in Afghanistan, Iraq and, most recently, Libya.
The Astute Class of nuclear-powered attack submarines are the most technologically-advanced submarines to serve with the Royal Navy and will progressively replace the Trafalgar Class currently in service.
They have been designed with modern operations in mind and are vastly different in shape, size, capacity and capability to their predecessors.
Commander Breckenridge said:
The most noticeable difference for the ship's company is that for the first time everyone has their own bunk. Design changes that will make an operational difference include the fact that we have a reactor that will never need to be refuelled in the boat's 25-year life.
We have optronic masts instead of traditional periscopes, which means we have saved lots of space in the control room as well as having the benefit of digital cameras instead of traditional optical periscopes.
The Astute Class is designed to perform a number of roles including anti-submarine and surface ship warfare, and gathering intelligence to protect the UK's strategic deterrent and surface shipping. It can also attack targets on land with Tomahawk guided missiles.
The First of Class, HMS Astute was commissioned into the Royal Navy on 27 August 2010 and is currently undertaking a period of extensive sea trials before she is handed over for operational service.
She will continue her trials in the USA until the early spring and will return to the UK for training before her first operational deployment.
Published 15 November 2011