Navy rescue team saves stricken sailors
The crew of a Search and Rescue helicopter from 771 Naval Air Squadron rescued 2 sailors from a stricken yacht 75 miles (120km) south west of the Scilly Isles last week.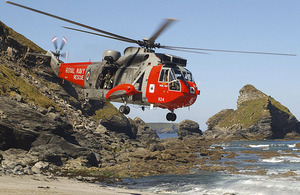 The yacht 'Andrietta', with her two-man crew on board, was reported to be in distress in mountainous seas and gale-force winds, unable to steer, with damage to her sails and an unserviceable engine when the Royal Naval crew were scrambled from their base at Royal Naval Air Station (RNAS) Culdrose in Cornwall.
When on scene, the helicopter crew assessed that, due to the high sea state, the wind, and the violent movement of the yacht, the safest method of rescue would be to get the two yachtsmen to leave the yacht and take to their life-raft from where they could be picked up.
The rescue flight's aircrewman, Sergeant Tony Russell Royal Marines, was winched down, and the first yachtsman was hoisted out of the life-raft, but due to severe wave motion, gusting wind and the change in the balance of the life-raft, it capsized, throwing the second yachtsman into the sea.
Sergeant Russell recovered the first yachtsman to the safety of the helicopter and returned to find and rescue the second man, who was now nowhere to be seen.
After searching the area around the life-raft, Sergeant Russell then dived under it to check if the second yachtsman was trapped there. He duly located him, but then had to deal with the yachtsman desperately clinging to him while he released himself and his survivor from the various ropes and lines now tangled around them.
This done, Sergeant Russell and the second yachtsman were safely lifted to the helicopter.
Sergeant Russell said:
The job was up there as a 'Grade A'. It's a strange thing to say, but I actually enjoyed the experience although there were times when I thought my time was up.
The yachtsmen were shaken by their experience but unhurt. They were flown to RNAS Culdrose and transferred to HM Coastguard, Falmouth.
Published 14 July 2011