Navy frees hostages from pirates in Indian Ocean
Two dozen merchant sailors have been freed from a hijacked ship in the Indian Ocean this week, thanks to a Royal Navy and Royal Marines boarding team.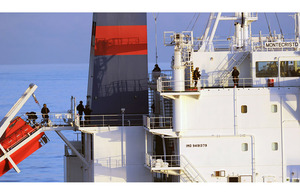 A specialist boarding party from Royal Fleet Auxiliary (RFA) vessel Fort Victoria, engaged in NATO counter-piracy operations east of Suez, freed 23 crew members of a hijacked Italian cargo ship this week.
The crew of the 56,000-tonne merchantman MV Montecristo spent 24 hours holed up in the engine room where they retreated after pirates stormed their ship some 200 miles (320km) south east of the coast of Oman in the Indian Ocean.
Distress signals from the Italian-registered bulk carrier were picked up, and support ship RFA Fort Victoria along with the American frigate USS De Wert made for the Montecristo's position.
The American ship was first on the scene and assessed the situation while a Royal Navy and Royal Marines boarding team aboard Fort Victoria prepared to intervene.
The presence of the two ships, the boarding team with their sea boats and offshore raiding craft, and a Fleet Air Arm Lynx helicopter overhead - what Defence Secretary Dr Liam Fox called 'a show of strength' - ensured the pirates surrendered, even before the Montecristo had been boarded.
A team from Fort Victoria subsequently boarded the cargo ship and freed the crew, who told their liberators they were all safe and well, while the 11 pirates surrendered without offering any resistance and were detained.
The combined actions to free the Montecristo's crew were immediately praised by Dr Fox. He said last night:
Such was the show of strength displayed by RFA Fort Victoria, alongside a US Navy frigate, that the operation was conducted without a shot being fired. The suspected pirates put up no resistance.
Piracy puts lives at risk and costs the maritime industry millions of pounds every year. The Royal Navy is at the forefront of international efforts to battle this menace.
Operations like this demonstrate the global presence of our Armed Forces and our commitment to the international co-operation necessary to combat modern-day piracy. I pay tribute to the professionalism of the Royal Navy and Royal Marines personnel involved in this incident.
Published 12 October 2011