Natural flood protection project in Yorkshire given £235,000 boost
A trial into new flood management techniques which use nature to control flood water is to receive further funding from Defra.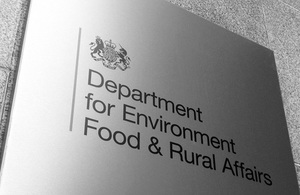 The Pickering project in North Yorkshire will receive £235,000 to continue innovative flood protection work.
This pioneering project makes the best use of the natural environment surrounding the town to store, divert and slow the flow of excess water rather than relying on traditional defences.  The approach includes planting more trees, restoring wetlands, building natural dams in streams and reducing water runoff from fields. These techniques ultimately aim to help reduce the amount of flood water reaching the town during periods of heavy rainfall.
The new money will help pay for the coordination, monitoring and evaluation of the next stage of the project which will include the creation of floodplain woodlands, the building of more natural dams and earth flood banks, as well as vital improvements, maintenance and monitoring work.
Environment Secretary Caroline Spelman announced the funding during a visit to Pickering today.
She said:
"This approach to flood protection that doesn't rely on large concrete walls could have real benefits for communities who suffer from regular flooding like Pickering.
"The extra funding will help ensure that the risks of flooding in Pickering can be reduced and means we can continue to test this innovative new approach to flood defence.
"The evidence we collect from this project will be vital in guiding future flood protection plans for other communities." 
The project started in 2009 and has received £247,000 from Defra over the last three years. The extra funding announced will help the project continue for another four years.
Defra has been working on the Pickering project in partnership with Durham University, the Forestry Commission, the Environment Agency, the North York Moors National Park, Ryedale District Council, the Pickering Flood Group and the Ryedale Flood Research Group.
Published 19 May 2011